Exposing the Laishui County (Hebei Province) 610 Office's Strong-Arm Tactics As Seen Through the Suffering of Mr. Cao Jiwei and Family (Photos)
(Clearwisdom.net) On February 21, 2007, Falun Dafa practitioners Mr. Cao Jiwei and Li Zhenfang, who were already destitute and homeless because of the oppression they suffered at the hands of staff from the Laishui County 610 Office of Hebei Province, were arrested by police and taken to Loucun Township Police Station in Shuiku Road, Songgezhuang Village. Police beat them, searched their belongings, confiscated Dafa materials along with personal belongings (worth more than 3,000 yuan) and 5,800 yuan. Wang Jinshi, the vice director of the police station, dragged Mr. Cao by his hair and slapped his face hard, kicked his chest, tied a rope around his neck and stepped hard on his hands. The stones on the ground pressed into Mr. Cao's hand. Witnesses said that Mr. Cao was covered in blood. Wang Jinshi took Mr. Cao's shoes off and ordered him to walk barefoot.
Mr. Cao Jiwei and Li Zhenfang were taken to the Loucun Township Police Station. Wang Jinshi and police tortured them and even shocked them with electric batons. Mr. Cao's body was covered with bruises. His body was injured everywhere and his eyes had black bruises.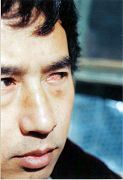 Since the beating on February 21, Mr. Cao Jiwei's eye injury has not healed.
Elderly Mother Thrown to the Road Side
Mr. Cao's mother, wife and daughter went to the detention center on February 26 after his mother had heard of the arrest and detention. She asked to see her son. Police denied this request and claimed that police from Loucun Township Police Station had to give permission for the visit. Mr. Cao's mother waited at the detention center while the others went to get permission. Then, police at the detention center told Mr. Cao's mother to leave immediately and threatened her, "If you don't leave, we will bring your son here and torture him in front of you." And then, they dragged her out of the building and threw her to the side of Road 112. It was past 9 p.m. Mr. Cao's wife and sister did not receive permission at Loucun Township Police Station to visit Mr. Cao.
Family Members Beaten by Staff from the 610 Office
On February 28, Mr. Cao's elderly mother, daughter in law and niece went to the home of Wang Fucai, a 610 officer, and asked that he help get Mr. Cao released. Wang Fucai's wife and son insulted them and threatened to call the police, so they left. When they reached the end of the street, a group of police, led by Wang Fucai and Dai Chunjie, both 610 Officers, stopped the three women and beat them. They were beaten to the ground. Wang and Dai told the police to take Mr. Cao's wife and sister to the police station and continue to beat them. Police pushed them to the ground and inserted stones and cigarette butts in their mouths and then detained them at the detention center.
Mr. Cao's wife, after being beaten by police and staff from the 610 Office
Laishui County 610's Crimes are too Numerous to Mention
Laishui County 610 Office had pre-planned and organized the arrest of more than 100 Falun Dafa practitioners. The police station, detention center, CCP school, target range, township, village offices, and subdistrict offices became "concentration camps" used in the persecution of Laishui County practitioners.
During the past seven years, staff from the 610 Office disregarded existing laws and behaved like criminals in their treatments of practitioners. They confiscated personal property, took them in secret to forced labor camps, sentenced them to serve time in prison, humiliated them publicly, detained them, had them fired from their jobs, tortured and brainwashed them. There is much more practitioners had to suffer at the hand of these so-called law officers. These evil people followed closely Jiang Zemin's policies and directives. They defamed practitioners, destroyed their reputation, bankrupted them financially, and destroyed them physically. All levels in the local governments were involved in the persecution, including the Women's Federation, the science committee, workers' union, and the county hospital.
During the past seven years, staff from the 610 office confiscated at least 1,700,000 yuan from Dafa practitioners. Countless families were destroyed. More than 30 practitioners were taken to forced labor camps and received sentences as long as 15 years. Four practitioners died from the torture and mistreatment: Wu Yanshui, from Dongguan Village, Laishui County; Zhang Xiuxian and father, Wazhai Village, Chengguanzhennan, Laishui; and Jiao Fenglan, Beizhuang Village, Shiting Town, Laishui County.