France: Presidential Candidate Shows Concern for Falun Gong Practitioner's Situation (Photos)
(Clearwisdom.net) Falun Gong practitioner Ma Jian, who was the general manager in charge of Chinese and North Asian business for the French PCM Pumping Industry company, was beaten and illegally arrested at his office in Beijing by about ten policemen on February 28th, 2007. The French Falun Dafa Association sent a letter regarding his case to all the candidates of the French presidential election to bring the matter to their attention and call for their help to rescue Mr. Ma Jian.
In her reply to the Chairman of the French Falun Gong Association, Ms. Segolene Royal, the French Socialist Party candidate for president, expressed her sympathy for Mr. Ma, and promised to try her best to urge China to respect human rights. The following is an English translation of the full content of the letter from Ms. Segolene Royal.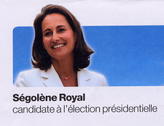 Ms. Segolene Royal, the French Socialist Party candidate for president
Dear Mr. Chairman:
After perusing your letter, I am especially concerned about the plight of a member of your Association in Beijing.
As with other minority groups in the Chinese nation, we have noticed that your rights and freedom are infringed, which is a grave concern of ours. I would like to express my sympathy and compassion to all those who have suffered tribulations resulting from the infringement of their rights and freedom.
I hope that we are able to establish a balanced and candid relationship with China, a big country that has a close political and economic connection with us. I would, without the least hesitation, like to reiterate the importance of respecting democracy and human rights for France. I promise I would strive harder than ever before in this regard.
Mr. Chairman, please accept my sincerest regards.
Sincerely,
Segolene Royal
Paris, April 16th, 2007

source: http://clearharmony.net/articles/200704/39104.html