Practitioner Ms. Yu Cuilan Is Held in Heizuizi Women's Prison, and Her Life Is in Danger (Photo)
(Clearwisdom.net) On December 23, 2006, police officers from Changchun City sent practitioner Ms. Yu Cuilan, who was very thin and almost paralyzed from torture, to Heizuizi Women's Prison in Jilin Province.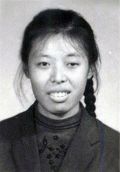 On the morning of May 19, 2006, officers of the National Security Brigade of Changchun City illegally arrested Ms. Yu near the Caishen Market Building. They tortured her in an attempt to extract information. Due to the torture, Ms. Yu became disabled and suffered heart failure.
Although Ms. Yu's life was in great danger, the Chinese Communist Party (CCP) court held two trials against her. She was carried into the court each time. During the first trial, the police had to give her oxygen and medicine. Without allowing her to speak one word, the court sentenced her to ten years in prison.
Ms. Yu started the appeal process to the middle court, but before she even sent in her documents the middle court held a trial against her. While she was preparing the appeal, she was arrested and sent to Heizuizi Women's Prison in Jilin Province on December 23, 2006.
When Ms. Yu was sent to the prison, some prison guards even said that she was pitiful because she was so thin and almost paralyzed.
We call on all kind people of the world and all human rights organizations to pay close attention to the persecution happening in Changchun City, uphold justice and stop the persecution.
Contact Information:
(Note: for home or office phone numbers, dial country code + area code before all numbers. For cell phone numbers, dial only country code before the numbers. Country code: 86, area code: 431)
The Criminal Court of the Intermediate Courthouse in Changchun City
Chief Judge Huang Jiachun, involved in the trial against Ms. Yu: 88558602
Tan Fangzheng, Associate Court Director of the People's Court of Luyuan District in Changchun City, involved in the trial against Ms. Yu: 88559728
Wang Yi and Wang Jinghui, Heads of the Second Division of the Procuratorate of Factory District of Changchun Auto Company (the Public Procuratorate), 5901132 ext 9409
Wang Haiqing, Director of the Central Hospital of the Prison Administration Bureau of Changchun City: 82938005
Wu Changlong, Head of the Prison Political Division: 86807090
Instructor Liu of the Police Hospital: 86807107
The Women's Prison of Jilin Province
P.O. 1048, Heizuizi, Changchun City, 130000
Prison: 5375089
The Prison Hospital: 5375084, 5375008
Xu Guangsheng, Director of the prison: 5375001 (Office), 2725199 (Home), 13704362518 (Cell)
Gao Mingya, Associate Director of the prison: 5375002 (Office), 13604425882 (Cell)
Wang Jie, Associate Director of the prison: 5375003 (Office), 2842148 (Home), 13504482003 (Cell)
Wu Zeyun, Associate Director of the prison: 5375004 (Office), 8694030 (Home), 13604449573 (Cell)
Zhao Xijun, General Secretary of the CCP Committee of the prison: 5375005 (Office), 7908699 (Home), 13604362560 (Cell)
The 610 Office of Jilin Province:
Lu Quanzhen, former Associate General Secretary of the Political and Legal Committee, Director of the 610 Office, and a member of the Legal Committee of the People's Congress of Jilin Province
Zhang Mingjiu, Director of the Administration Office of the 610 Office of Jilin Province: 8905959, 13604443111 (Cell)
Li Guanghui, Department Director of the 610 Office of Jilin Province: 8904870
The Police Department of Changchun City:
Gao Xuezhang, Director of the Police Department of Changchun City: 13331668001 (Cell) 88907001(Home)
Zheng Weiming, Associate Director of the Police Department of Changchun City: 13904300812 (Cell), 85205577(Home)