Belgium: People in Leuven Moved to Tears by the Persecution of Falun Gong in China
March 31, 2007 | By a Belgian practitioner
(Clearwisdom.net) March 3 and 4, 2007, Falun Gong practitioners attended the Eco-Therapeutica Beurs Expo in the city of Leuven, Belgium. The Falun Gong booth was dominated by the large words "Truthfulness, Compassion, Forbearance" and photos of practitioners' peaceful protests to end the brutal persecution of Falun Gong by the Chinese Communist regime. On the table there were introductory materials about Falun Gong and materials exposing the persecution and organ harvesting from living Falun Gong practitioners for lucrative profits. During the activity, practitioners also taught people how to make paper lotus flowers to express their concern for persecuted Falun Gong children. Many people of various ages were attracted to the stand.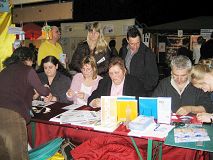 People come to learn how to fold paper lotus flowers while listening to practitioners clarify the truth
There was a visitor that folded paper lotus flowers and looked at all the displays. He said: "Here we can breathe the air of freedom and peace. The atmosphere is so calm and harmonious. The strong and pure energy emanating from this stand gives people a wonderful feeling." He came back again next day.
While folding paper lotus flowers, people also listened to practitioners informing them about the ongoing brutal persecution of Falun Gong in China. The story of little Fadu and her mother was extremely moving: under the inhuman persecution of Falun Gong practitioners by the evil Chinese Communist regime, little Fadu's father died. Little Fadu lost her father when she was a baby. In order to end this terrible persecution, she and her mother have been touring around the world to appeal for help.
People also listened very carefully when a practitioner told about the organ harvesting atrocities. They all strongly condemned the regime's crimes and expressed their support for efforts to end the persecution. Many people asked what they could do to help. People very often had tears in their eyes. Two ladies said that they would continue to fold paper lotus flowers and gave them to more people with Falun Gong information attached. They felt that this was an obligation they must fulfil. Practitioners were very moved by people's kind support.
Practitioners also demonstrated the Falun Gong exercises and told people who were interested in learning Falun Gong about the exercise sites.