Germany: A Middle-School Student Supports Falun Gong and Helps Clarify the Truth (Photos)
March 30, 2007 | By a practitioner from Frankfurt, Germany
(Clearwisdom.net) Recently, Steffi, a tenth-grade student from Frankfurt, gave me a call to ask my help in producing a two-minute-long film concerning the persecution of Falun Gong by the Chinese Communist Party (CCP). I was a little surprised, but very happy to help, because here was a person who doesn't practice Falun Gong showing concern about the persecution.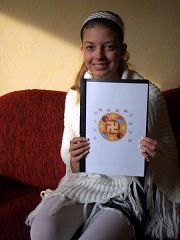 Steffi, a tenth-grade student in Frankfurt, is concerned about the persecution of Falun Gong in China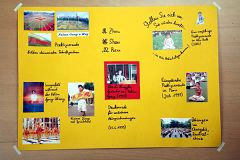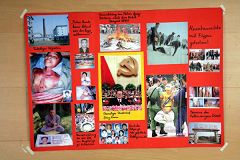 The displays made by Steffi talking about Falun Gong practitioners being persecuted by Jiang Zemin and the CCP
Later, I learned that a year ago, when Steffi and her mother were strolling on a Frankfurt shopping street, she saw an anti-torture exhibition and re-enactment of the CCP's organ harvesting from living Falun Gong practitioners. She was deeply shocked. One year later, she decided to take the persecution of Falun Gong as the topic of her report in her social studies class. Steffi produced a report entitled, "The Persecution of Falun Gong," with two big display boards presenting the facts about Falun Gong and the persecution initiated by Jiang Zemin and the CCP. In this class, she was required to create a short film relevant to the topic, so I asked some friends who work with the NTDTV station to help. Very soon they made the film. At the same time, I also sent her a copy of the Nine Commentaries on the Communist Party, because it contains much background information about the persecution.
This is an example of a righteous person clarifying the truth and supporting Dafa. She obtained an excellent score in this school project. One of the three committee members of the project photocopied many copies of her report, and spread them throughout the whole school.
I am sure that the Falun Gong practitioners who are suffering from the persecution in China would all be appreciative of Steffi's report. As more and more people learn about the truth of the hidden persecution and spread the facts more widely, the persecution will end soon and Falun Gong practitioners in mainland China will be able to do the exercises freely, as they did before the persecution began in 1999.