Beijing Practitioner Ms. Zhang Lianying Suffers Brain Hemorrhage Due to Torture and Is in Critical Condition (Photos)
(Clearwisdom.net) On March 20, 2007, Ms. Zhang Lianying, a Falun Dafa practitioner from Beijing, suffered a brain hemorrhage due to long-term torture at the Beijing Women's Forced Labor Camp. She was rushed to Renhe Hospital, Daxing District, Beijing for emergency care. Ms. Zhang is in a coma and fighting for her life.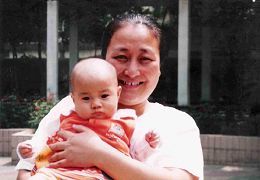 Ms. Zhang Lianying with her youngest daughter before her arrest
On January 10th, Ms. Zhang's husband Niu Jinping went with their three-year-old daughter to the administration office at the labor camp and requested to visit his wife. The director denied his visit. Around the Chinese New Year, Mr. Niu heard that his wife had been on a hunger strike and was in critical condition. He went to the local government office, 610 Office and police station many times, requesting to see his wife, but was refused. In the meanwhile, a Minghui/Clearwisdom article revealed, "Ms. Zhang Lianying is being detained with the 'Concentrated Training Team' at the Beijing Women's Forced Labor Camp, and she has been inhumanly tortured to the point where she is unrecognizable. Prisoners in the 'Concentrated Training Team' are isolated into 2-meter cubes with no windows. They cannot leave this area, such that they have to eat and relieve themselves in this tiny space."
[Photo] After some time, they transferred Ms. Zhang from the Sixth Team to the Concentrated Training Team and kept her in isolation. She is kept away from other practitioners and suffers even more severe torture.
In the morning of March 20, Ms. Zhang began to feel dizzy and could not walk properly. At around 9 a.m., staff from the labor camp took her to see a doctor. They first took her to a small nearby hospital. The hospital staff did not dare to treat her due to the severity of her condition. She was then taken to Renhe Hospital in Daxing District. She was diagnosed as having suffered "massive hemorrhage on both sides of the brain" and is in critical condition. Doctors performed an emergency operation immediately. Ms. Zhang's family members were notified at 3 p.m., and they rushed to the hospital. By that time, Ms. Zhang was in a deep coma.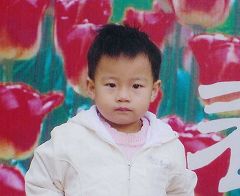 Ms. Zhang's daughter is now three years old and under the care of her father Niu Jinping.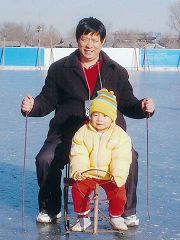 Ms. Zhang Lianying is 46 and has a B.S. degree. She worked as an official and registered accountant at the Beijing Guangda Group. After Jiang Zemin's regime began to persecute Falun Gong in July 1999, Ms. Zhang wrote "The Journey Home," where she recounted her experience and exposed the CCP's brutal and systematic persecution. On June 14, 2005, when Ms. Zhang was taking care of her baby daughter, more than 10 police officers from the Xianghe Police Station broke into her home and arrested her. On June 30, she was illegally sentenced to two years and six months of forced labor. From August to mid-October 2005, she was severely beaten at the No. 9 Team of the Beijing Tuanhe Dispatching Office. There were many 3cm-long cuts of different depths on her head and face. The shape of her face was distorted, and she became absent minded and could no longer move around with ease. She requested to sue those who beat her, but the Beijing Re-education Through Labor Bureau, Dispatching Office, and Procuratorate denied her requests.
On April 20, 2006, Ms. Zhang Lianying was transferred to the women's labor camp, where she was again physically and mentally tortured. Mr. Niu Jinping, Ms. Zhang's husband, saw no other hope to find help for his wife in China. On May 21, 2006, he met with Vice President of the European Parliament Edward McMillan-Scott. He told Mr. McMillan-Scott the facts about the persecution that he, his wife, and friends were suffering. Mr. Niu showed him the location of the Beijing Women's Forced Labor Camp on the map, evidence of the torture of Ms. Zhang, a document of his wife's sentence, receipt of paid fines, and so on. Since this meeting, Mr. Niu Jinping, Ms. Zhang Lianying and Mr. Cao Dong, another practitioner who met with Edward McMillan-Scott, have suffered continued threats and retaliation from CCP officials. The torture of Ms. Zhang at the Beijing Women's Forced Labor Camp was escalating when she suffered this brain hemorrhage. This is another example of the relentless torture suffered by practitioners at the hands of the CCP.
Ms. Zhang Lianying is currently in critical condition.
It is our greatest wish that kind people worldwide will help rescue Ms. Zhang and put an end to the CCP's inhuman persecution.
 The front gate of the Beijing Women's Forced labor Camp
March 22, 2007