Lanterns Promote Falun Dafa and Lighted Taiwan Lantern Festival (Photos)
March 16, 2007 | By a Taiwan Falun Dafa practitioner
(Clearwisdom.net) To celebrate the Lantern Festival of lunar January 15, Qiaoyi County government organized a nine-day "Taiwan Lantern Festival" in the plaza in front of the county government building, from March 3-11, 2007. A lantern titled "Falun Dafa is Good" made by Falun Dafa practitioners was selected among over one thousand lanterns to display in the main area. Many people surrounded the "Falun Lantern" and some were so curious that they tried to touch the "Spinning Law Wheel."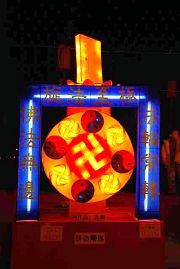 Falun Dafa lantern with spinning law wheel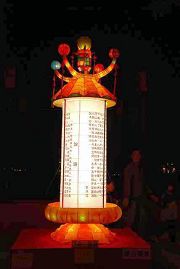 Lantern Lunyu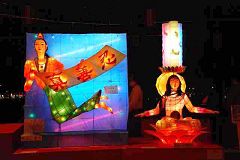 Lantern "Unity Between Nature and Human"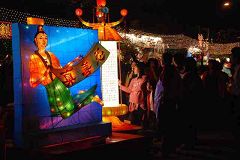 The lantern is so pretty, a child touches it
People read the words on the lantern "Lunyu"
According to Chinese folklore, the Lantern Festival is also called "Little Spring Festival." It is an important festival in Taiwan too. Since 1990, the Taiwan Department of Transportation has organized the "Taipei Lantern Festival" every year, and there were over one million visitors each year. This year, the lanterns were divided into several districts including main lanterns, secondary lanterns, traditional lanterns, happy lanterns, prayer and blessing lanterns, art lanterns and little lanterns. The total space approaches 35 acres and it is estimated there will be over 100,000 visitors every night.
The lanterns made by Falun Dafa practitioners include "Law Wheel," "Lunyu," "Celestial Maidens," and "Unity between Humans and Nature." The practitioners started planning in July and overcame many difficulties. A practitioner who participated in the lantern making said that the "Law Wheel" lantern has a law wheel that spins nine times clockwise and then nine times counter-clockwise. "It is a fruit of many practitioners' consideration and design."
A Falun Gong practitioner stood in front of the lantern "Unity between Humans and Nature" and smiled. He said, "This lantern is to display the beautiful environment when a Falun Gong practitioner is in meditation. The girl is beautiful and pure, in white clothing, and looks like a lotus flower on the water, clean and pure, divine and glorious. When a person cultivates to a high level, in another dimension, the body will have three flowers above the head. Three flowers are spinning above the head."
"Because we practice Falun Dafa, we experience its beauty in person. We follow the principle Truthfulness-Compassion-Forbearance in our day to day lives. Our health improves, our minds are clean and life is richer. We want to use this folklore lantern festival to let more people know Falun Dafa."
One old man stood in front of the lantern "Lunyu" and exclaimed, "I have never see such a lantern before. So pretty. I cannot describe it, but I do feel a kind of pleasure while I am standing here."