Canada: Spreading the Truth with Art, Calling for an End to the Persecution (Photos)
March 12, 2007 | By a practitioner in Canada
(Clearwisdom.net) On March 5-7, 2007, the University of Calgary student union held a three-day "Political Action Week - War and Peace" series of events, which focused on genocide and group slaughters, and explored the peace and safety of human beings. During the events, the arts exhibition showcased the persecution of Falun Gong practitioners in China, which touched the students and faculty.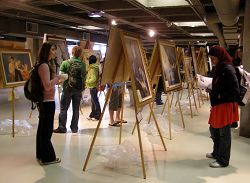 Students view the "Truthfulness-Compassion-Forbearance" art exhibition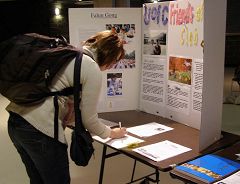 Signing to support Falun Gong practitioners
The event was held in the MacEwan Student Union, and was divided into sections, including war and peace, stopping genocide, in the wake of armies, and so on. In "Stopping the crime of genocide," about thirty paintings showing the ongoing persecution of Falun Gong in China were on display.
In the introduction, the host of the art exhibition said that the nearly thirty paintings were a part of the "Truthfulness-Compassion-Forbearance" art exhibition. The paintings were works of Falun Gong practitioner artists and showed the grace of Falun Dafa, the steadfast belief of practitioners following "Truthfulness-Compassion-Forbearance," and the brutal persecution of Falun Gong practitioners in China.
Many students sighed while looking at the paintings. A Muslim lady student said that the painting "Homeless" touched her the most. The child became homeless since his parents were persecuted for practicing Falun Gong. The host of the art exhibition told her and others that the stories behind the paintings are true stories occurring in China. The Chinese Communist Party's (CCP) persecution of Falun Gong practitioners has caused countless kind-hearted people to endure broken families and death.
Many students viewed the paintings carefully and felt it inconceivable that such brutal persecution occurs in China. They signed the petition from "Friends of Falun Gong" to support efforts to end the persecution.
Accompanying the candlelight, a forum entitled "Stopping the genocide crime" was held. Falun Gong practitioner and PhD student Liu Wenyu made a speech in the forum. He narrated his suffering in China during his three-year imprisonment for practicing Falun Gong. His wife, Yao Yue, was sentenced to 12 years in prison for practicing Falun Gong. Her life is currently still in imminent danger. Currently, he cannot communicate with her.
Liu Wenyu called on all people of conscience, and supporters of freedom of belief to help stop the genocide of Falun Gong practitioners occurring in China.
After the speech, the Vice Chairman of the Student Association for the University of Calgary, walked toward Liu Wenyu and said that the student union would like to host more forums to help Falun Gong. He also called on all people living in happiness and peace not to forget those suffering these hardships.
After the forum, some students signed the anti-genocide postcards. The host said that the postcards would be sent to the Canadian Prime Minister, and would help urge the Canadian government to take the lead in promoting global peace.