Colorado: Forums Held at Two Universities to Condemn CCP Organ Harvesting (Photos)
February 08, 2007 | By a practitioner from Colorado
(Clearwisdom.net) At noon on February 1, 2007, Amnesty International, Asian Pacific American Law, and the organization "Never Again!" held a forum titled "China's New Genocide – Organ Harvesting from Prisoners of Conscience" on the campus of the University of Denver in Colorado. Mr. David Matas, a famous human rights lawyer; Mr. Erping Zhang, a Falun Gong spokesperson and director of the Asia Study Association; Dr. Wenyi Wang; and Dr. Charles Lee were invited to give speeches at the forum.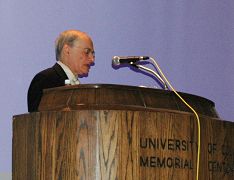 Mr. Matas introduced the investigation of the CCP's organ harvesting.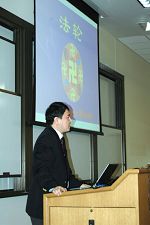 Mr. Erping Zhang introduced Falun Gong.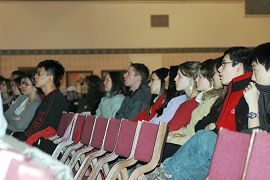 The audience
About 100 students and faculty members in the Department of Law attended this one-hour-long forum. Before the forum, attendees viewed a photo exhibition outside the conference hall, which introduced the spread of Falun Gong all over the world and the persecution in China. Several Falun Gong practitioners gave tours at the exhibition.
That evening, Amnesty International and the University of Colorado held another forum on the Boulder campus. The forum was held in University Memorial Center, Glenn Miller Ballroom. About 200 spectators went to the forum and saw the photo exhibition beforehand. They also watched the video "Set Them Free."
At the forums, four speakers introduced Falun Gong, the persecution against Falun Gong, and the CCP's harvesting of organs from living Falun Gong practitioners to the audiences. Many audience members asked questions and signed their names on the petition which called for help to stop the persecution.