U.S. Commission on International Religious Freedom: Religious Freedom in China Is Deteriorating (Photos)
(Clearwisdom.net) Radio Free Asia (RFA) reported on February 1, 2007 that the Chair of the U.S. Commission on International Religious Freedom (USCIRF) Felice D. Gaer said recently that the condition of religious freedom in China has become worse and worse in the past one or more years. She called on the United States government and other Western countries to urge the Chinese Communist regime to end its violation of human rights prior to the 2008 Olympic Games to be held in Beijing. Several people who are concerned about religious freedom in China supported Gaer's viewpoint with facts.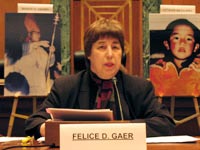 Chair of the U.S. Commission on International Religious Freedom (USCIRF) Felice D. Gaer (RFA)
Ms. Gaer said that religious freedom and other human rights conditions in China have obviously deteriorated in the past one and a half years. Almost every week, they receive reports that the Chinese Communist regime's police assaulted gatherings of house churches, arrested, detained and harassed religious leaders, reporters, human rights lawyers and other activists.
Gaer's allegation received support from several witnesses at the hearing, including Fu Xiqiu, President of the USA-based China Aid Association, Gong Minquan, Director of the Cardinal Kung Foundation, Falun Gong spokesperson Zhang Erping, arrested Muslim Uighur Cellier's wife, Camilla, a director of the International Campaign for Tibet and others.
Fu Xiqiu said in his speech that based on their statistics, at least 650 priests and believers belonging to house churches were arrested last year. He said the number was far lower than the 2005 figure. It means that the authorities have changed its strategy, specifically attacking house church leaders and dismantling church buildings.
Fu Xiqiu cited an incident as an example. The authorities sent 3,000 police to forcibly dismantle a church in Xiaoshan, Zhejiang Province in July last year. During the incident, more than 50 followers were arrested and later released. But eight church leaders were sentenced to one to three years in prison, charged with "inciting violence to resist the implementation of the law."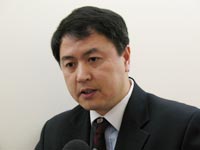 Falun Gong spokesperson Zhang Erping (RFA)
Another witness who testified at the hearing was Zhang Erping. He briefed the situation of Falun Gong practitioners being persecuted in China. He highlighted how Shenyang police tortured Ms. Gao Rongrong to death. In addition, he also mentioned that some Falun Gong practitioners in the US have also been under harassment by the Chinese Communist regime.
Zhang Erping presented some examples; in Chicago, a Falun Gong practitioner' car was burnt, and a practitioner was beaten. The police arrested the assailants who beat the Falun Gong practitioner and the court handled the matter according to law. (Reporter: "Did they have something to do with the Chinese Communist regime? ") They confessed to the affirmative at court.
Chair of the USCIRF Ms. Gaer also expressed her expectation that the U.S. government should do more. She said that with the 2008 Olympic Games approaching, the international community has focused more and more attention on China. The United States and its allies should ask the Chinese Communist regime to actively end the organized and egregious violation of human rights, so that China will not be able to hide such violations of human rights behind the beautiful symbol of the Olympics.