Peru: Practitioners Introduce Falun Dafa and Clarify the Facts during the Chinese New Year (Photos)
February 23, 2007 | By a Falun Dafa practitioner in Peru
(Clearwisdom.net) Sunday February 18, 2007, was the first day of the Chinese New Year, or the Year of Dinghai in China. Falun Gong practitioners in Peru went to Chinatown in Lima to introduce Falun Gong to the public.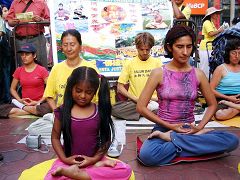 Falun Gong practitioners demonstrate the peaceful and gentle five sets of exercises

Practitioners hand out flyers and explain in detail about the persecution happening in China

People carefully read the truth-clarification flyers
As it was Chinese New Year, a garden party celebrating the New Year was to be held at the Tonghui Headquarters across Capon Street in Chinatown. A crowd of people stood at the entrance to Capon Street, waiting to enter to observe the opening ceremony. People took Falun Gong truth-clarification flyers from practitioners. They discussed among each other and watched the practitioners' activities. The practitioners greeted every Chinese person who passed by, saying, "Happy New Year!" Many Chinese people took the truth-clarification materials and nodded, smiling. Practitioners also informed Chinese people from the mainland about the news that more than 18 million Chinese people have quit the Chinese Communist Party and its affiliated organizations. They encouraged the Chinese people from China to set themselves free from this wicked Party.
When practitioners demonstrated the five sets of peaceful and smooth Falun Gong exercises, people surrounded them in a large crowd. They were particularly interested upon seeing two five-year-old and six-year-old practitioners also taking part in the exercises. People were surprised and moved, and they requested flyers and asked for information about learning Falun Gong.
After the introductory activity was completed, people still surrounded the practitioners and were reluctant to leave. The practitioners who participated in the activities said that after seeing such a scene, they felt very strongly that it was their duty to create more opportunities for people to learn about Falun Gong.