Wang Bo and Her Parents Illegally Sentenced to Four and Five Years in Prison (Photo)
(Clearwisdom.net) Falun Dafa practitioner Ms. Wang Bo from Shijiazhuang City, Hebei Province was falsely charged with "using a cult organization to disrupt the administration of law" and was illegally sentenced to five years in prison by the Chinese Communist government in early February 2007. Her father Wang Xinzhong and mother Liu Shuqin were equally charged, and each was sentenced to four years in prison.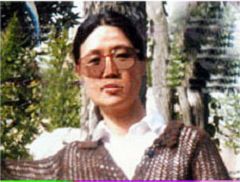 Wang Bo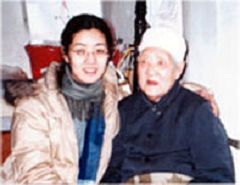 Wang Bo and Grandmother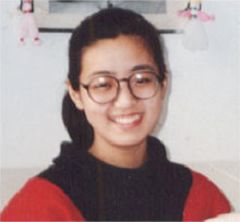 Wang Bo
Wang Bo and her parents started practicing Falun Dafa in 1996, and harmony was restored in her nearly broken family. In 1999, 18-year-old Wang Bo was admitted to the Central Conservatory of Music. The persecution began later that same year. Subsequently, Wang Bo and her parents were deprived of personal freedom for persisting in their beliefs and speaking the truth about Falun Dafa. Wang Bo was illegally sentenced to forced labor in late 2000 for clarifying the truth. She was sent to Xinan Labor Camp in early 2001 by the authorities of Shijiazhuang Labor Camp and became the youngest detainee there, and was brutally tortured and deprived of sleep for a very long time. She was later held at the Hebei Capital Legal Education Center for brainwashing. The CCTV [Central China Television] program Focal Point Interview broadcast a deceptive show regarding Wang Bo and her family. The Party mouthpiece Xinhua News Agency and other media spread lies to brainwash the public. During the three years when Wang Bo returned to school to study, agents from the 610 Office assigned a woman officer to "accompany" Wang Bo, amounting to around the clock surveillance and control.
The most recent arrest took place on the evening of July 27, 2006, when the police climbed over a wall and barged into Wang Bo and her parents' temporary residence in Dalian City, Liaoning Province. They arrested Wang Bo and her mother, who were in their under garments. Wang Bo's father Wang Xinzhong was at work. They arrested him the next morning. Officers from the Politics and Security Division at the Shijiazhuang Police Department had waited outside their home for several days prior to the arrest.
This arrest took place after Wang Bo and Wang Xinzhong published articles on the Minghui/Clearwisdom website and other foreign-based websites to reveal their persecution experiences and the Party's general persecution of Falun Gong. Wang Bo and her parents had freed themselves from the claws of the Hebei Province 610 Office and the brainwashing center in 2005 and publicized in detail how reporters from the Focal Point Interview edited, twisted and took their words out of context to slander Falun Gong. They chose to go into exile after speaking the truth, to avoid further persecution. Wang Bo and her parents were secretly arrested by Party officials in Dalian City on the evening of July 27, 2006, and were taken back to Shijiazhuang City, where they were illegally detained.
Changan District Court officials and those from the Procuratorate in Shijiazhuang City illegally tried Wang Bo and her parents at 9:00 a.m. on November 10, 2006, charging them with "disrupting the administration of law." According to the Party's own laws, a verdict should be issued within one month, at most by 45 days, and yet the verdict in Wang Bo's case was not issued until nearly three months later. It is said that the Communist regime thought Wang Bo's case was high profile. The case was submitted all the way up to the Hebei Province High Court, whose officials issued a preliminary verdict. During the court session the head judge announced more than 40,000 yuan and three boxes of clothing should be returned to Wang Bo and her parents. It is said the money and clothing is stored with Li Xingshan, an official at the Shijiazhuang City National Security Division. Wang Bo's relatives demanded the return of the money and property, yet the court appeared powerless to do anything about it.
The Party-controlled court officials issued a faulty verdict. It was learned that Wang Bo and her mother Liu Shuqin refused to sign it and they strongly protested the illegal trial. They tore up the verdict statement in front of the judge. Wang Bo's father, Wang Xinzhong, has appealed with the Shijiazhuang City Intermediate Court. A conscientious lawyer has defended Wang Xinzhong's innocence in court after great efforts from relatives and friends. They are trying to get an open public trial for the second hearing in order to prevent the intermediate court from "playing tricks in the dark." More information indicates, however, that persons at the Changan District Court pretended to have recommended that Wang Xinzhong's relatives hire a lawyer, but when the lawyer tried to intervene in the case, they did everything possible to stop him.
The Communist Party has never followed any law in dealing with Falun Gong practitioners. The trial of Wang Bo's family does not conform to any existing laws. Instead, the Party has once again implemented their persecution policy, "ruin their reputation, bankrupt them financially and annihilate them physically." The "trial" is only a staged show used to cover up the truth about the persecution of innocent and good people. Falun Gong practitioners were only exercising their freedom of speech and freedom of press as Chinese citizens when exposing the persecution, and printing and distributing truth clarification flyers. They violated no laws, and therefore they are completely innocent. Wang Bo and her family must be released at once!
We call for justice-loving people inside and outside China who might continue their efforts to rescue Wang Bo and her incarcerated family.
Shijiazhuang City Intermediate People's Court
Address: North Youyi Street, Zip code: 050000
Phone: 86-311-85187214
Office of the Court Party Committee: 86-311-87793244
Disciplinary Inspection Division: 86-311-87783411
No. 1 Criminal Court: 86-311-87797341
No. 2 Criminal Court: 86-311-87764145, 87794242
Fax: 86-311-87793240