Compassionate Calls from Artists Touch the Hearts; Chinese New Year Spectacular Receives Overwhelming Praise (Photos)
(Clearwisdom.net) On February 16, two shows of the NTDTV Chinese New Year Spectacular were performed at Radio City Music Hall in New York. As the weather bounced back from an earlier blizzard, the audience watched the show with great interest and enthusiasm. The talented performers, the profound and lofty Chinese culture, and the perfect blend of music, dance, backdrops and lighting elicited overwhelming praise from the audience.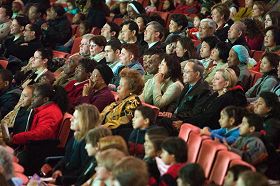 A view of the audience
1. Compassionate Voices Awakening the Precious Chinese People
With their elegant voices, renowned Sopranos Jiang Min and Bai Xue, Alto Yang Jianshen and acclaimed Tenor Guan Guimin called on the precious Chinese people to find the truth for their future well-being. Many members of the audience were moved to tears.
Ms. Zhang from New Jersey said: "These songs are very touching and I sensed the compassion and love conveyed by the songs."
Attorney Johnson said: "Truth is truth. No government has the right to cover up the truth. For a nation, there is always a way to address any issue as long as it is real. However, if people are not allowed to know the truth, there is a big problem with that nation."
Soprano Jiang Min: "Why Refuse?"
lyrics:
My friend, do you remember?
We came as guests here, from above
Over so many lives, for whom was it we waited?
And for what have we sought amidst this haze?
Is the vow from before still inscribed in your heart?
Then why refuse, when the facts are before you?
It's true what Falun Gong has been saying
Higher lives are fulfilling their vows
What people have eagerly awaited now unfolds
The state of the divine is eternal compassion
Yet time will pass in a twinkling
Ms. Jiang said: "Facing more than 5,000 audience members, I felt that they were all my family members and we finally got together to celebrate. I felt that I was not performing. I was just narrating and calling on my family members from my heart."
Ms. Jiang added: "Many Chinese are not willing to face the truth because of the Chinese Communist Party propaganda against Falun Gong and the communist culture. However, if you ask them how much they know about Falun Gong, you will find many of them know little. Just because of the communist culture, they don't have independent views on this issue. I hope that this song will help them to question the propaganda, reopen their sealed memory, ponder where life comes from and what is the destination, and be themselves."
Alto Yang Jiansheng: "Compassion"
In the Holiday Wonders Show, Alto Yang Jiansheng's "Tiananmen Please Tell Me" deeply touched the audience. In the Chinese New Year Spectacular, Ms. Yang presented a new song, "Compassion."
Lyrics:
Do you know why I speak out the truth?
It's not to have you become like me
Much less to convert you to something
I wish only that you may see
The deception of that wicked entity
Compassion compels me to intervene
I can't bear to see you share in its fate
For the heavens have ordained the red dragon's end
I feel called to ensure your well-being
Ms. Yang said that her song just tells a straight story. In a form similar to chatting, she tells the truth of Falun Gong and call on the Chinese people to denounce the communist party before its destruction.
"From the applause, I felt that the audience got my message," Ms. Yang said.
Soprano Bai Xue: "Finding the Truth"
Lyrics
So vast are heaven and earth;
Whither do people go?
Lost, the way is obscured;
Let truth be the compass.
When disaster descends,
It favors neither rich nor poor.
But there is a way out -
Quickly find what is true!
Through the song, Bai Xue voiced the compassion of Gods: For your future well-being, quickly find the truth in order to be spared the disaster.
Ms. Bai said: "When I walked onto the stage, I sang with a compassionate heart. When I saw so many people listening to me quietly, I sang and sang, I was almost moved to tears upon seeing that so many precious people have opened their hearts.
"No matter how rich one is, he will have nothing left when a disaster descends. In just a twinkling, the South Asia Tsunami wiped out everything. The Chinese Communist Party advocates that humans will defeat nature, however, humans can never defeat nature."
The Spectacular has visited more than 20 cities in North America, and Bai Xue noticed that many people were crying while they were listening to her songs.
Ms. Bai said: "It is because the compassion of Gods conveyed by the songs touched them. Their knowing side understood the meaning of the lyrics."
Tenor Guan Guimin: "Finding Myself"
Lyrics:
So vast loomed this world, I knew not who I was
Oh how many lifetimes?--the number was a blur
Lost, no help in sight, only distress and pain
How weary, how weary, was this longing heart
In the dark of night I shed tears for all that has happened.
Until one day I finally came upon the truth
Until the Way I had sought pierced the ear, like thunder
Only then did I find myself
And know to hasten my steps on the divine path
Until one day I finally came upon the truth
Until the Way I had sought pierced the ear, like thunder
Only then did I find myself
And know to hasten my steps on the divine path
Mr. Guan said: "In fact, everyone should ask oneself this question, 'Who am I?' Do we really know the answer? Oftentimes, people feel that they know themselves well. However, when one sits down quietly and ponders where all those thoughts, emotions and desires come from, they may discover that they know nothing about their true selves. Where do lives come from and what is the destination and what is the true meaning of our journey?
"I sincerely hope that people can ask this question of themselves and find their true selves. Only in this way, they can make a conscious choice for their future well-being."
2. Overwhelming Praise from the Audience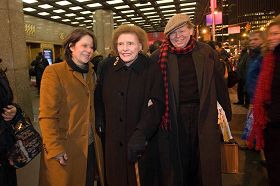 Oscar and Golden Globe award winning actress Patricia Neal (center) and her Broadway actor friend (right) enjoyed the show
1963 Oscar Best Actress Patricia Neal said that she enjoyed the show and had a wonderful night. She said that she loved every performance, every song and every dance. "I will come back next year," she said.
Roberto Garcia said: "This is the most beautiful and pure cultural show that I have seen in my life."

Roberto Garcia said: "This is the most beautiful and pure cultural show that I have seen in my life. The backdrop designs are so real and bright. The young dancing boys and girls are so lovely. Chinese people are very smart, and they can do anything."

Mr. Zhu immigrated to U.S. more than 20 years ago and is now retired. He said: "It is a great show and well organized. The dancers and singers are great, and the performance of the Tianyin Orchestra is really world class."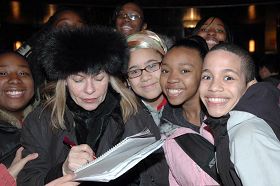 Schoolteacher Fran Kleinfeld believes that the song, "Tiananmen Please Tell Me" contains an important educational message to children
Jenny grew up in the U.S. She said: "China has a long history, and we have the right to know its past and present. The show includes performances which describe the persecution of Falun Gong, and I think it is O.K., because everyone has their right to express his or her belief."
Designer Judith Weiss said: "The songs touched on the issue of human nature and it is a very good approach. The backdrop design is perfect and every story is inspiring. This is really a good opportunity to learn and I feel that there are many values in Chinese culture that I need to learn."
Joanna and Jim brought their adopted Chinese daughter Li Dui to watch the show. Jim said: "I love Guan Guimin's song. He is great, and is so much like Pavarotti. The show reminded me of my adopted daughter--the world truly needs tolerance and love."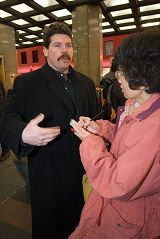 Brain surgeon Michael Hahn said that he liked Soprano Bai Xue's "Auspicious Words." He said that in the future he would follow the principles of "Truthfulness-Compassion-Tolerance" when he performs brain surgeries.
Brain surgeon Michael Hahn said the most impressive performance was Soprano Bai Xue's song, "Auspicious Words." He recited the lyrics "Remember, Dafa Hao," and asked, "What is Dafa?" Later, he learned that Dafa has three principles which are Truthfulness, Compassion and Tolerance. Michael said that in the future he would follow the principles of "Truthfulness-Compassion-Tolerance" when he performs brain surgeries.
A Long Island resident who was born in Lebanon said: "It is amazing, the color, the stage design and the culture, everything is so beautiful. We don't have our own culture here. However, the Chinese culture is so profound with thousands of years of history, something we can't see in this country."
Chinese New Yorker Miss Cui said: "As the Chinese New Year is approaching, the show has a symbolic meaning: Get rid of the evil communist party in the coming year."
A New Yorker said: "I feel that the message of the show is that kindness and hope will eventually defeat evil and darkness."