Xu Guangdao Died as a Result of Torture - His Younger Brother Is Now Brutally Tortured (Photo)
(Clearwisdom.net) In 2001, Mr. Xu Guangdao from Pan County, Guizhou Province, went to Beijing to appeal on behalf of Falun Gong. Beijing police tortured him to death.
At the beginning of 2007, Ms. Chen Yumei, the wife of Mr. Xu's brother, was arrested. Participating in that arrest were Communist officials in Pan County and from the Provincial Political and Judiciary Committee. She is still in detention.
Xu Guangdao's brother, Mr. Xu Qihua, chose to go into exile to avoid further persecution. In September 2007, agents from the National Security Division in Guiyang City arrested Mr. Xu Qihua. He has become disfigured because of torture.
Xu Qihua's three children and Xu Guangdao's two children must now depend on their grandparents, and life is very difficult for them.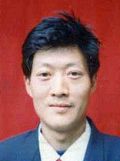 Xu Guangdao before his death
An earlier report on the Minghui/Clearwisdom website had this to say: Xu Guangdao was a practitioner from Guizhou Province. When he went to Beijing to appeal for Falun Gong, he was arrested and held in the Dongcheng Detention Center in Beijing. Because he went on a hunger strike for the right to practice the Falun Gong exercises, he was beaten many times and tortured with electric needles. Prisoners carried him back to the cell following the beating. He was unable to turn over in bed, unable to use the toilet, and he started to vomiting blood. He died that evening in February 2001. In order to cover up what had happened, Dongcheng Detention Center officials told inmates to tell the same story, following the officials' line, that Mr. Xu had died from an illness. Some people were skeptical that Mr. Xu had been ill. A cell head later on told us the true story: Xu Guangdao was beaten to death. Three people--the Dongcheng Police Detention Center political commissar, deputy head Guo, and a guard--were responsible.
Mr. Xu Guangdao' family brought back his ashes from the Boguo Town Police Station. After his death, his brother's family took care of his three young children. Ever since then, Mr. Xu Qihua, MR. Xu Guangdao's brother, has shouldered the responsibility of taking care of three families: his own wife and two children, his brother's three children, and his elderly parents.
In January 2007, during a new round of large-scale persecution of Falun Gong practitioners in Pan County, Mr. Xu Qihua chose to leave home to avoid further persecution. His wife, Ms. Chen Yumei, was arrested and is being unlawfully held in a local detention center. The oldest of his five children is only 12 years old. They have to rely on their elderly grandparents.
However, Communist agents did not stop harassing this family, made up of only the elderly and children. People in the countryside can watch television programs only by means of satellite dishes. Pan County police officer Cha went to the Xu family and disconnected the satellite dish, preventing the family from watching television. The police also installed two monitoring devices in front of the house. In addition, they hired the neighbors, including Ao Chenggong, Yang Longxiang, Li Xuecheng and others, to watch the family.
In the second half of September of 2007, Guiyang City National Security police agents arrested Mr. Xu Qihua. They suspected that he had installed satellite dishes for others. The police brutally tortured him and several other practitioners who were arrested together. So far no ones know whether or not these practitioners are alive. The situation is very tense.
November 24, 2007