The Nelson Mail, New Zealand: Torch Relay Targets Oppression in China
Friday, 28 December 2007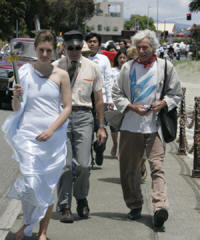 RIGHTS MARCH: Gabrielle Kemp (left), Nelson Council of Churches chairman Gary Clover and Mike Ward lead a march protesting human rights abuses in China.
For many, the Olympic flame represents strength, courage and determination. For those gathered at Tahunanui Beach on Thursday, the arrival of a flame from the sea represented something much more somber.
Four waka paddled by members of the Maitahi Outrigger Canoe Club and the Motueka Waka Ama Club carried a "human rights torch" to highlight what they said were the millions of people being persecuted and tortured in China.
The Global Human Rights Torch relay started in Athens, Greece, and has traveled through Europe, Asia, Australia and much of New Zealand.
Local organizer Margo MacVicar, of Motueka, said the event was an international campaign to bring the world's attention to human rights abuses carried out by the Chinese government, despite its claim to have stopped such activities after being awarded the 2008 Olympic Games.
"Olympics and crimes against humanity cannot co-exist in China," she said.
"We are hoping by bringing it to the public's attention, by showing the violations, it will shame them if nothing else."
Ms. MacVicar said groups such as Falun Gong could not express their beliefs, religion was suppressed and prisoners had their organs removed while still alive.
The torch relay "is to signify the light of freedom, justice and hope for all the people in China who are persecuted."
After the 150-strong crowd heard some short speeches, a group led by Nelsonian Gabrielle Kemp dressed as a Greek goddess of justice marched along Rocks Rd. to Anzac Park, where musicians played and more speeches were made by human rights campaigners.
Kan Win, a political refugee from Myanmar, said the Chinese government had provided weapons and support to the military rulers of his country.