France: Demonstrating the Falun Gong Exercises at an Event in Guadeloupe (Photos)
(Clearwisdom.net) On November 17, Falun Gong practitioners from Guadeloupe in France participated in a "Martial Arts, the History of India, Buddhist Dances, and Musical Performances" in the Jardin d'Eau Park.
Before the start of the event, practitioners went early to the venue to put up their displays. They also performed the exercises and introduced people to Falun Gong. Practitioners stayed the entire afternoon so that they were able to show the exercises to many people. The actual event performances lasted over four hours, and more than a thousand people enjoyed watching the peaceful demonstration of the five sets of Falun Gong exercises.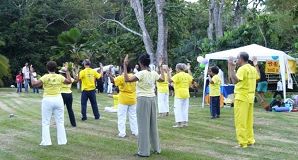 Using the time before the event to demonstrate the Falun Gong exercises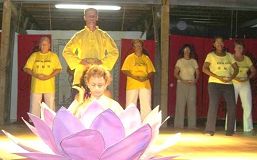 Introducing the five Falun Gong exercises on stage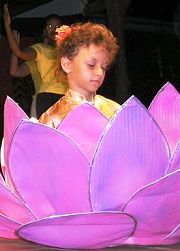 A little practitioner in a lotus flower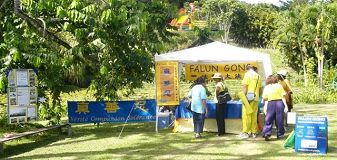 Chatting to visitors about Falun Gong and the persecution