Florida: Government Officials Welcome the Holiday Wonders with Greetings and Proclamations (Photo)
(Clearwisdom.net) The Divine Performing Arts Company will hold four shows of the Holiday Wonders in Fort Lauderdale and St. Petersburg, Florida from December 27 to 30. Several government officials, congressmen and city councils in Florida issued proclamations to the shows. The proclamations stated that the shows will manifest the pure traditional Chinese culture and bring attendees an unforgettable experience.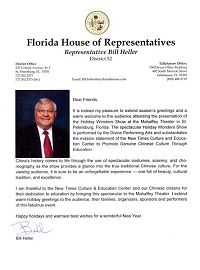 The proclamation from State Representative Bill Heller
Florida State Representative Bill Heller said in the proclamation: "Chinese history comes to life through the use of spectacular costumes, scenery, and choreography as the show provides a glance into the true traditional Chinese culture." He said: "For the viewing audience, it is sure to be an unforgettable experience--one full of beauty, cultural tradition and excellence."
US Congressman Bill Young from Florida's 10th district sent a letter of congratulations to the show. He stated that the show in St. Petersburg will be a great chance for citizens to celebrate the Chinese New Year and learn about Chinese culture.
Congressman Young praised the show for its role in the communication between Eastern and Western cultures. He said that the show will manifest beauty, compassion and truth.
James Bennett, chair of the city council of St. Petersburg wished a success to the show. Rick Baker, the mayor of St. Petersburg sent a letter to welcome the show, which will be held at Progress Energy Center for the Arts on December 29 and 30.
Pam Lorio, the mayor of Tampa, sent a letter to thank the Divine Performing Arts for holding shows in Florida.