Artists and Critics Applaud Divine Performing Arts Performance (Photos)
(Clearwisdom.net) On December 19, 2007, Divine Performing Arts (DPA) presented the second Holiday Wonders show in New York. It was well received by artists and critics alike.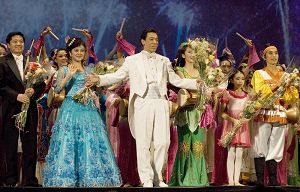 Performers answer a curtain call at the end of the second show in New York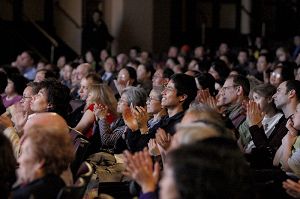 Viewers watch the performance attentively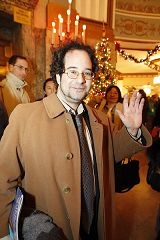 New York musician Shannon Taylor said that he loved the show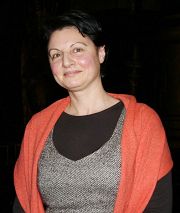 Renata Rosso, reporter and writer for the magazine In Scena, said, "It is interesting that the show integrates cultures from different regions and different ethnicities, such as the Mongolian dance and the Korean dance. It is wonderful to have people enjoy so many things in one show."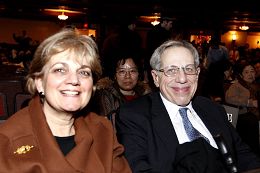 Brenda Gevertz from the Jewish Community Center and historian Carl Rheins called the show "world-class"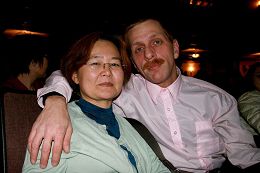 John Dennis, who is in the restaurant business, came with his wife to watch the show
John, with his wife and daughter, came from New Jersey to watch the show.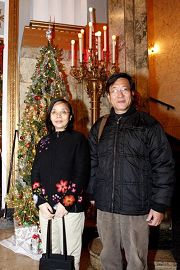 Renowned economists Cheng Xiaoneng and He Qinglian praised the show as "marking a new era" and "a new, refreshing artistic form"
After watching the show, renowned economist He Qinglian praised the show, "The choreographers integrated their understanding of ancient music and dance after careful investigation and study, and presented the art in a new form to viewers through the costumes, music, dance, and integration with modern stage techniques."
Economist Cheng Xiaoneng pointed out, "People from mainland China are influenced by the CCP's party culture. Many Chinese people still remember the CCP music and songs after living for many years in other countries.
This show opens a new era and presents Chinese traditional culture without any trace of the CCP party culture. It is what people need now."
The performance company is composed of world class artists, including Ren Fengwu and Chen Yongjia, youth group champions in the recently held International Chinese Classic Dance Competition, and the third place winners Che Xinggao and Wu Xuntian. The lead dancers of the Mongolian and Korean dances are Wang Chunxue and Yi Hai, performers who won national awards in China.
The performers also include renowned soprano singer Ms. Bai Xue, erhu performer Qi Xiaochun, and two renowned soprano singers, Guan Guimin and Hong Ming.