North Carolina, USA: State and Federal Officials Extend Greetings and Recognition to New Tang Dynasty TV, the Divine Performing Arts and the Holiday Wonders
(Clearwisdom.net) The New Tang Dynasty TV's Holiday Wonders and the Chinese New Year Spectacular, performed by Divine Performing Arts, will be staged in more than sixty cities around the world this season. The global tour begins at the Beacon Theatre in New York City and the Lyric Opera House in Baltimore, Maryland, on December 18, 2007.
On the occasion of the Holiday Wonders performances at the Ovens Auditorium in Charlotte on December 19-20 and the War Memorial Auditorium in Greensboro on December 23, North Carolina State House Representatives Alma Adams and Tricia Ann Cotham, and US Congresswoman Elizabeth Dole wrote letters to extend their greetings and recognition to the New Tang Dynasty TV, Divine Performing Arts, and the Holiday Wonders.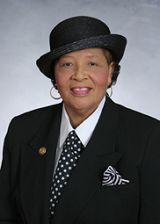 North Carolina State House Rep Alma Adams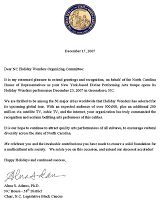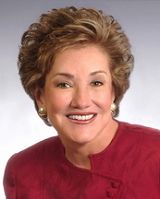 US Congresswoman Elizabeth Dole
North Carolina State House Rep Tricia Ann Cotham
Below is the text of the letter from Representative Alma Adams.
December 17, 2007
Dear NC Holiday Wonders Organizing Committee:
It is my esteemed pleasure to extend greetings and recognition, on behalf of the North Carolina House of Representatives as your New York-based Divine Performing Arts troupe opens its Holiday Wonders performances December 23, 2007 in Greensboro, NC.
We are thrilled to be among the 50 major cities worldwide that Holiday Wonders has selected for its upcoming global tour. With an expected audience of over 500,000, plus an additional 200 million via satellite TV, cable TV, and the internet, your organization has truly commanded the recognition and acclaim befitting arts performers of this caliber.
It is our hope to continue to attract quality arts performances of all cultures, to encourage cultural diversity across the state of North Carolina.
We celebrate you and the invaluable contributions you have made to ensure a solid foundation for a multicultural society. We salute you on this occasion, and extend our sincerest accolades!
Happy Holidays and continued success,
Alma S. Adams, Ph.D.
NC House -58th District
Chair, N.C. Legislative Black Caucus