More than Fifty Media Outlets Report on Holiday Wonders (Photos)
(Clearwidom.net) Holiday Wonders, presented at the Beacon Theatre starting December 18, has received wide attention from the public. Since the beginning of December, more than fifty media outlets (newspaper, magazine, TV, radios, etc) in New York metro and New Jersey have reported this show.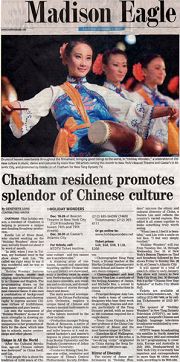 Madison Eagle (New Jersey) introduced Holiday Wonders to readers (Scanned image)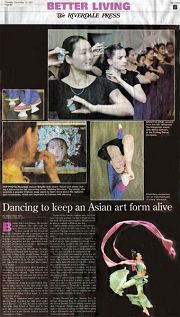 Riverdale Press (New York City) reported Holiday Wonders (Scanned image)
The Item (New York City) carried a report about Holiday Wonders (Scanned Image)
The reports often highlight that the show portrays traditional Chinese values such as trustworthiness, loyalty and piety through a blend of Chinese dances, vocal and instrument solos enhanced by high tech backdrop and beautiful costumes.
Relay Essence of Traditional Chinese Culture
From December 14 to 16, New York Channel 1 Television aired news of the Holiday Wonders more than 10 times. WCBS Television and BronxNet Television also broadcast news of the show.
In addition, radio stations including WWOR, WSNR and WVOX also introduced the show as a performance which relays essence of traditional Chinese culture.
Blends the Charm of East and West
On December 12, Broadway magazine Playbill introduced the Holiday Wonders to its readers.
"New Tang Dynasty TV (NTDTV) and Divine Performing Arts present the Asian-themed show, which according to press materials, "blends the divine charm of the East with the holiday spirit of the West through 2 hours of performances that range from classic European ballet to the theatrical folk dances of China."
Present Authentic Classical Chinese Dances
On December 16, New York City newspaper Newsday recommended the Holiday Wonders. Reporter Robert Kahn of the newspaper interviewed dancer Doris Chan and her mother Pi-Chuan Chen, a show choreographer. The mother and daughter will "alternately choreograph and perform in two holiday shows intended to share Chinese culture with Western audiences."
They said that the Holiday Wonder and Chinese New Year Spectacular "present a more accurate representation of Chinese folk dancing than audiences can experience anywhere today -- including China."
Holiday Wonders Receive Widespread Recognition
In its December issue, the American Theatre Magazine said that the Holiday Wonders portrays the peak time of China through ancient legends and the show is highly recognized among countless American Chinese who seeks to search their Chinese roots.
According to the article, Ru-tang Chen, director of the Divine Performing Arts' Orchestra, said: "As artists, we have the responsibility to carry our the essence of our traditional Chinese culture and create touching works.
Chinese Dance Truly Expresses Myself
On December 13, New York City newspaper Riverdale Press carried an article introducing the Holiday Wonders. The reporter interviewed Brigitt Arle, a dancer of the Divine Performing Arts. The reporter wrote: "...Ms. Arle will take the stage at the Beacon Theatre daily to perform with her company, FuXing, in the annual Holiday Wonders show. The performance, produced by New Tang Dynasty Television, is, as Ms. Arle explains it, a rare opportunity to see traditional Chinese dance in all its glory."
Arle told the report: "When I started doing Chinese dance, I had to break away from how I learned to move previously to return to the origins of classic dance," Ms. Arle explained. "Ironically - because I am not Chinese - I didn't feel I was truly expressing myself in dance until I started studying and performing traditional Chinese dance."
Show the Best to the Audience
In an article published on December 13, the Queens Chornicle proudly highlighted that a local resident will be performing in the Holiday Wonders. The article said that 16-year-old Forest Hills resident Alina Wang is a member of the Divine Performing Arts Troupe, a New York-based group of high school and college-age dancers and musicians trained in the Chinese classical tradition.
"This month, in cooperation with Chinese language network New Tang Dynasty Television, the group will present their "Holiday Wonders" show at the Beacon Theater in Manhattan and a "Chinese New Year Spectacular" at Radio City Music Hall. They'll then embark on a world tour encompassing 150 shows in 50 cities." The reporter wrote.
Wang told the reporter: "People train all their lives and they might not even get this chance ... When the lights are on you," Wang said, "you just want to show the best to the audience."
Regarding the contents of the show, dancer Shirley Dai said that all stories have morals and the show's appeal is its ability to transport the audience. "Once the backdrop hits the screen, and you hear the music and see the lights, she said, "you just feel like you're drawn into that period in China."
Emphasis on Values Crucial to Child Development
In a December 6 report, New York City newspaper Time Ledger carried a story of Alina Wang, a dancer performing in the Holiday Wonders show. Wang is a member of the Fei Tian Academy of Performing Arts and she participated in the 2007 global tour of the Chinese New Year Spectacular. She said: "It's amazing. It's been such a wonderful experience to be able to bring out to all of these people around the world this kind of dancing, this kind of show."
Wang's mother Jiang told the reporter that Fei Tan Academy of the Arts stresses traditional Chinese values, such as honesty, piety and compassion in their course load. These are things in her view are crucial to a child's development but lacking in most institutions.

"For my daughter to be in touch with such great Chinese traditional culture and traditional values I felt like she's changed and become a better kid," Jiang said. "It's not just the changes I see in my own daughter, but also I see that because of her own experiences she can bring this out to the audience and have more kids and more people around the world benefit from it as well."
Ticketing
Holiday Wonders will run Tuesday, Dec. 18 through Wednesday, Dec. 26, at various times, at the Beacon Theatre, 2124 Broadway, between 74th and 75th streets. Tickets range from $48 to $128
From January 30 to February 9, the Chinese New Year Spectacular will be run at the Radio City Music Hall, 1260 6th Avenue , New York City. Tickets starts at $58.
Tickets are available by calling 212-695-7469 or going to www.ticketmaster.com. For more information, go to www.holidaywonders.net or www.chinesesplendor.com.