Australia: Human Rights Torch Arrives in Sydney (Photos)
(Clearwisdom.net) On October 27, 2007, the Human Right Rights Torch arrived in Sydney. Australia politicians, and representatives from community and human rights groups attended a ceremony in front of the Sydney Town Hall to receive the torch. After the ceremony, a series of activities were held at First Fleet Park, attracting nearly 1,000 attendees. These activities also attracted many media outlets, including ABC TV, Channel 10 TV, SBS TV, Australian Associated Press, Daily Telegram, Sydney Morning Herald, 2UE TV, 2SER TV, SBS TV, the Epoch Times and New Tang Dynasty TV. Sound of Hope Radio aired the events in order to allow people in Mainland China to have a firsthand experience of this grand occasion and Australian people's support for human rights in China. At the same time, many volunteers distributed fliers about the Torch Relay and collected signatures.
Initiated by the Coalition to Investigate the Persecution of Falun Gong (CIPFG), in order to draw public attention to the human rights atrocities in China, the Torch is scheduled to visit more than 100 cities around the world. The torch was lit in Athens on August 9, 2007, and during the past two months, it has visited many cities in Europe, receiving wide support from elected officials, social elites, human rights groups, and the general public.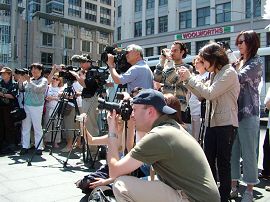 Torch-receiving ceremony attracted many reporters
Australian politicians and rights activists hoisting the Torch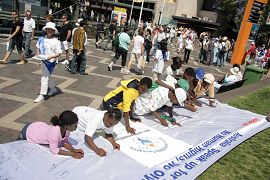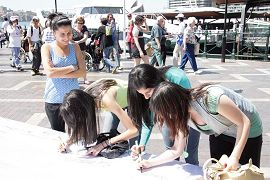 Many Sydney residents signed a petition to support the Human Rights Torch Relay and condemn the CCP's human rights atrocities
The Torch arrived in Sydney on the morning of October 27. At a reception ceremony, the host first gave an introduction of the Torch Relay project. "One of the most important goals of this project is to stop the Chinese Communist Party's (CCP) atrocities of harvesting organs from living Falun Gong practitioners. We hope that the torch will be relayed to China," the host said.
Special guests of the ceremony included Senator Kerry Nettle, former Australian Human Rights Commissioner Dr. Sev Ozdowski, Mayor of Waverly Council Dominic Wy Kanak and John McInerney, former Olympic athlete Jan Becker, NSW State MP Ian Cohen, former Chinese diplomat Chen Yong Lin, and representatives from Vietnam, Burma, Tibet and Darfur groups. At the plaza outside the Sydney Town Hall, many of the guests spoke out to express their support for the Torch relay and condemn the CCP for its atrocities. In addition, the host also read many support letters that the CIPFG received from Australian officials and rights groups.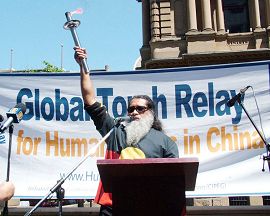 Mayor of Waverly Council Dominic Wy Kanak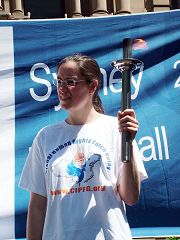 Senator Kerry Nettle
Senator Kerry Nettle said that now is a good time to press the Chinese Communist regime to respect human rights and end its persecution of Falun Gong and other religious groups. She said that she welcomed the Human Rights Torch and elected officials should jointly express their concern for human rights in China. The senator pointed out that China must learn to respect human rights and learn to cooperate with the international community.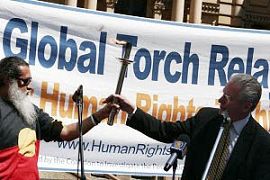 Dominic Wy Kanak (left) and John McInerney (right)
Sydney city councilor John McInerney said that Sydney is the first city visited in Australia and he welcomed the Torch on behalf of the Sydney city government.
Dr. Sev Ozdowski, chairman of the CIPFG Oceania and former Australian Human Rights Commissioner, gave a speech at the ceremony. Dr. Ozdowski served as the director of the Australian Human Rights Committee from 2002 to 2005. He said that he joined the CIPFG in order to help bring changes to human rights in China. He pointed out that this Human Rights Torch Relay is the first one of its kind.
Dr. Ozdowski said: "China pledged to improve human rights when it applied to host the Olympic Games and yet it has never stopped its brutal persecution of Falun Gong practitioners and the appalling atrocities of harvesting organs. Before the Games is held in Beijing, we call on China to end the persecution of Falun Gong and stop organ harvesting and stop all human rights violations."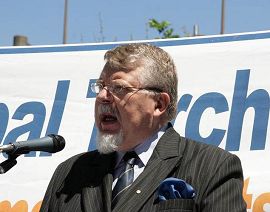 Dr. Ozdowski, chairman of the CIPFG Oceania branch
New South Wales (NSW) State MP Ian Cohen also voiced his support at the ceremony. He said that he was honored to be invited to the Torch Relay. Mr. Cohen called on China to stop their human rights violations and he believed that public appeal will bring changes.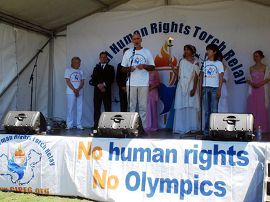 NSW State MP Ian Cohen
Australian resident Ms. Muhan Chen's mother is being detained in China for her belief in Falun Dafa. In her speech, Ms. Chen said that the Torch brought her and others who have relatives in China hope that the persecution will end soon.
Around 10:50 a.m., the Torch Relay started. The relay received wide support from local people and relay participants including politicians, athletes, artists, rights activists and leaders of minority groups. The relay started from Sydney Town Hall, stopped at First Fleet Park near the Sydney Opera House, and arrived at Manly Beach via boat.
The Torch Relay in Sydney
Police motorcycles lead the torch relay procession
The Torch Relay ceremony at the First Fleet Park
The Torch Relay team at the Sydney Opera House
The Torch headed to Manly Beach via boat