San Francisco, USA: "Human Rights Torch Awareness Week" Rally Calls for an End to Organ Harvesting (Photos)
(Clearwisdom.net) October 22 to 28 was "Human Rights Torch Awareness Week" in the US. On October 27, San Francisco Falun Gong practitioners, joined by people from all circles, held a rally to condemn the Chinese Communist Party's (CCP) repeated violations of human rights and its atrocities of harvesting organs from living Falun Gong practitioners. After the rally, participants held a bike parade downtown.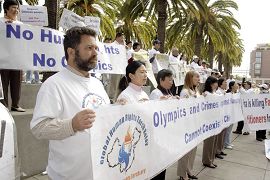 Banner: Olympics and Crimes against Humanity Cannot Coexist in China
People from all circles rallied to call for an end to the persecution of Falun Gong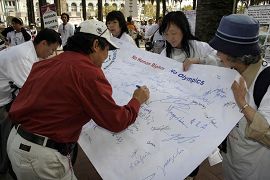 Many people signed their names to support the Human Rights Torch Relay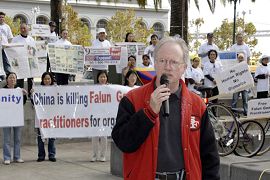 Dr. Wilson: The CCP is persecuting the best citizens in China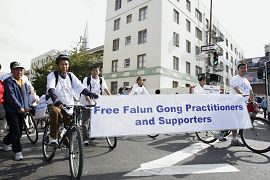 Bike parade after the rally
Dr. Sherry Zhang, spokeswoman for the Coalition to Investigate the Persecution of Falun Gong, San Francisco Division, said that the Human Rights Torch Relay has received wide support since it was lit in Athens on August 9. After touring in Europe, the Torch is now in Australia and will come to the US next year.
"Though the CCP has recently promised to end its practice of taking organs from live donors and has enacted regulations to control organ transplants, to our knowledge, there are still many people who are going to China for organ transplants. The CCP is again deceiving the international community, as organ harvesting from living Falun Gong practitioners has not stopped. There are many practitioners who have simply disappeared after they were arrested," Dr. Zhang said.
"This is the first event in San Francisco to raise awareness of the Human Rights Torch Relay and the atrocities happening in China. We received a lot support and we will hold more events to let people know about the persecution of Falun Gong. Our requests to the CCP are simple: Release all detained Falun Gong practitioners and bring all who are involved in organ harvesting to justice." Dr. Zhang stated.
Dr. Wilson is a respected practicing physician and he is very concerned about human rights in China. He said that there is a lot of evidence that has confirmed that the CCP is brutally persecuting Falun Gong practitioners and even harvesting organs from them. "We must step up to let more people know about these atrocities. If the CCP does not stop the persecution of Falun Gong and other minority groups, we should not allow the Olympic Games to take place in Beijing." Dr. Wilson said.
The rally attracted many tourists and residents. A woman named Margaux decided to join this rally when she received a flier about the Torch Relay one week ago. She said that she still didn't understand why the CCP would persecute Falun Gong. Through the internet, she learned that Falun Gong is a peaceful practice that emphasizes the cultivation of Truthfulness, Compassion and Tolerance. "I didn't know that organ harvesting is happening in China. It is horrible. I am a resident of this planet, and I feel that I should do something to help these victims," Margaux told the reporter.
A bystander named Scott said that he had made a decision after listening to the speeches: He would not buy any products made in China. Regarding the Olympic Games to be held in Beijing next year, he said that Beijing should not have been selected to host the Games.