Mr. Long Guande's Life at Risk in Prison (Photo)
(Clearwisdom.net) Mr. Long Guande, 43, a Falun Dafa practitioner from Guangdong Province, was severely injured from police beatings when he was arrested. He is illegally detained in the Third Detention Center in the Baiyun District of Guangzhou City. He refused to sign the arrest warrant.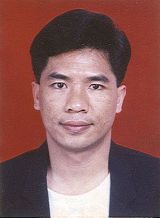 Long Guande, a Falun Dafa Practitioner from Shenjiang City
On the morning of September 23, 2007, Mr. Long was on his way to his store. Without any warning, police officers came up behind him, threw a black sack over his head, and captured him. Mr. Long was violently beaten by the officers despite the presence of many onlookers. Mr. Long sustained severe internal injuries, and he had blood in his urine and stool for an entire week. He also has chest pains, difficulty breathing, and continuous coughing.
The arrest was carried out by the coordinated efforts of the police departments of Guangdong Province and Dongcheng District, Shenjiang City. Mr. Long and his wife have been arrested and taken to brainwashing centers many times. They have been threatened and harassed frequently. For the last seven years, they have not been able to return to their home. Their apartment in Zhuhai City was searched and ransacked many times. Even their relatives and friends were interrogated, monitored, and threatened and their homes ransacked, or the water and electricity to their homes were cut off. Even the aged parents and little children in their family were not spared. The police were determined to not let them have any place to go or have any peace.
Mr. Long was contracted to construct water and electricity projects in Zhuhai City in 1992, and he accumulated a fortune close to 10 million yuan. He started practicing Falun Dafa in 1995. Before he practiced, he had many ailments. He had passed out due to bronchitis, and he had to carry emergency medicine with him all the time. After he started to practice Falun Dafa, his health improved, his mood got better, and he got rid of all his bad habits. For the over ten years since he became a practitioner, he was never sick. Mr. Long has two children, a girl, 12, and a boy, 11. His family of four lived very peacefully.
Since July 20, 1999, when the Chinese Communist Party (CCP) launched its persecution of Falun Gong, Mr. Long remained determined in his belief and continued to clarify the truth to the public and expose the CCP's lies. The CCP considered him a key practitioner of Falun Dafa. The government of Zhuhai City posted a reward of 50,000 yuan for his arrest. Later, he was put on the most-wanted list at the Guangdong Province Police Department. In August 2001, he was arrested at the Shangchong Check Station in Zhuhai City by police from the 610 Office and the National Security Team of Zhuhai City. During the arrest, police struck Mr. Long on the head with their walkie talkies. He escaped the next day. His home was ransacked many times, and all his property and money were confiscated. The police never gave him any receipts. The CCP of Zhuhai City even informed the work units involved to suspend Mr. Long's contracted projects and froze the money for his projects.
Chen Fuqiang (male), the head of a contracted project (office phone: 86-756-2238988) added fuel to the flames. He didn't consider the help that Mr. Long gave him to get the contract for the project, which made him successful in Zhuhai City. He instead confiscated several million yuan from the project fees from Mr Long when he was in trouble. Mr. Long has no money left. Mr. Long asked Chen to calculate the income of the projects and lend him some money to live on, but Chen even accused Mr. Long of owing him money.
We appeal to all the governments in the world and all the righteous people in all walks of life to urgently rescue Mr. Long, who is detained simply because he believes in Truthfulness, Compassion, and Tolerance and wants to be a kind person.
Zhang (male, first name unknown) is the person directly responsible for this case in the Third Detention Center, Baiyun District, Guangdong Province: 86-20-83114724
related article: http://www.clearwisdom.net/emh/articles/2007/10/27/90880.html
November 10, 2007