UK: Falun Dafa Practitioners Introduce Falun Dafa and Clarify the Facts in Bradford (Photos)
November 18, 2007 | By Falun Dafa practitioners in the United Kingdom
(Clearwisdom.net) On Saturday, November 10, 2007, Falun Dafa practitioners in the United Kingdom traveled to the city of Bradford for a truth clarification event. They displayed photos in the city center to expose the persecution of Falun Gong in China and demonstrated the five Falun Gong exercises. This was a great opportunity for the local people to learn about Falun Dafa and to take the opportunity to sign the petition calling for an end to the organ harvesting from living Falun Gong practitioners in China. Many people were shocked when they found out that a peaceful meditation practice is being brutally persecuted by the Chinese Communist Party, and they expressed their sympathy for those who have died due to the persecution. Some people already knew about the persecution happening in China.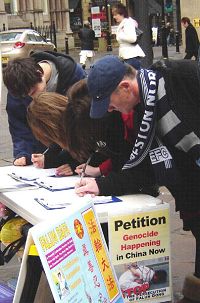 People sign the petition to support Falun Gong practitioners' efforts to stop the persecution
Many people took photos of the practitioners doing the Falun Gong exercises and inquired about how and where they could learn them. Lots of DVDs and leaflets were given out to people of all ages and social groups. After a practitioner explained Falun Gong's principles of Truthfulness-Compassion-Forbearance to a Muslim street warden, the warden said that it was good to hear about this practice. She said that more people should follow those principles, and she also mentioned how nice it was to see that the exercises are taught for free.