That Little Waist Drum Troupe (Photos)
November 17, 2007 | By a Falun Dafa practitioner from Taiwan
(Clearwisdom.net) Recently, the Minghui School Waist Drum Troupe, composed of children ranging in age from 5 to 13, was invited to perform at the opening ceremony of the 30th anniversary of Wanda Elementary School in Taipei. The performance won an appreciation award from school.
The Minghui School Waist Drum Troupe was established at the end of September 2005 with young players from Minghui Schools in Sanchong City, Taipei County and two districts in Taipei City. The purpose of the troupe is to promote Falun Dafa and to learn and pass on traditional Chinese culture. For several years, the troupe has been performing at many community events, where they have gradually and steadily displayed the beauty of Falun Dafa to the Taiwanese people.
In addition to hearing the beautiful music, they also receive Falun Gong truth-clarification materials and a lotus flower bookmark. The little practitioners will greet people with their pure voices, "How do you do! Falun Dafa is great, best wishes to you for safety and peace."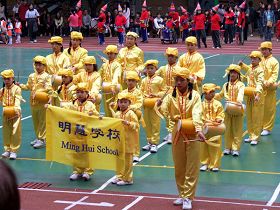 The Minghui School Waist Drum Troupe has been receiving more and more invitations to perform in a variety of community events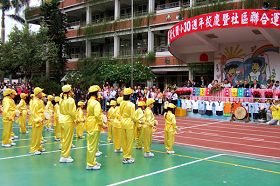 The Waist Drum Troupe performs at the opening ceremony for Wanda Elementary School's 30th Anniversary

Whether it is the Moon Festival or a charity event, people can see this group of young Falun Dafa practitioners in golden yellow suits.
"Good morning everyone! Today, we are honored to have the opportunity to perform for you. This group of little students in golden yellow suits in front of you come from various elementary schools in Taipei County and Taipei City. The youngest one is only 5 years old. The oldest one is 13 years old. These children all practice Falun Dafa and enjoy great benefits from the practice, including excellent health," announces a practitioner through a microphone.
"A healthy mind and body greatly enhance their performance in many aspects of school. In school, these kids are also required to treat others and all issues with Truthfulness, Compassion and Tolerance. The waist drum troupe is part of the Minghui school's art and talent program. The music they perform is all based on traditional Chinese culture," continued the MC.
"The first piece they will perform for you is called, 'Good fortune'. We hope that the music will bring you good fortune and we wish the celebration a great success! Thank you!"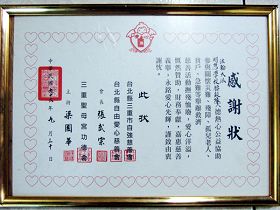 Appreciation Certificate from the Ziqiang Charity Foundation to the Minghui School Waist Drum Troupe after they performed at its 26th Anniversary in September 2007
The celebration was announced in the local newspaper, Citizen's Daily. The announcement read, "The Wanda Elementary School's 30th Anniversary will be held on Sunday November 10th. The event will be started off with the Taipei Minghui School Waist Drum Troupe, followed by a parade of each class of the school. Besides the performances from the school, the organizers also invited the famous New Tang Dynasty Flag and Drum Team. Everyone is welcome to enjoy the celebration with us."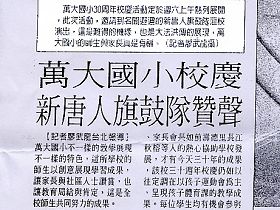 The Citizen's Daily announcement of the Wanda Elementary School's 30th Anniversary celebration



New Tang Dynasty Flag and Drum Team performs at Wanda Elementary School's 30th Anniversary

After the waist drum performance, the little practitioners dispersed in pairs and handed out lotus flowers and Falun Dafa bookmarks, which were warmly received. One elderly gentleman received a lotus flower and bookmark, and asked, "Is this for a charity sale?" A little practitioner replied, "No. It is a gift to you. Falun Dafa is great!" The gentleman asked, "Then why are you giving me this printed material?" The little practitioner answered, "This is for you to read so you can start practicing Falun Dafa. Falun Dafa is great!"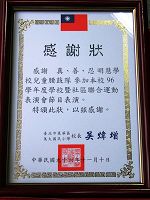 Principal Wu presents an Appreciation Certificate to the troupe
At every performance, the young practitioners gain great experience, both in performing on stage and in clarifying the truth to people. Their performances are getting more and more mature and professional. With a pure and unselfish heart, they hope that everyone will come to know and appreciate these words: "Falun Dafa is great!"