New Yorkers Welcome Falun Dafa at the Veteran's Day Parade in Manhattan (Photos)
(Clearwisdom.net) On November 11, 2007, the annual Veteran's Day Parade took place on 5th Avenue between 23rd and 56th streets in Manhattan, New York City. Soldiers and military vehicles of the US Army, Navy, and Air Force participated in the parade to celebrate the holiday. The Falun Dafa group was also in the parade and was warmly welcomed by the New Yorkers.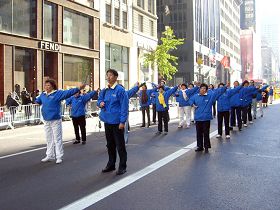 Falun Dafa exercise team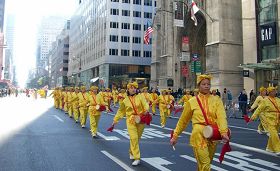 Waist-drum marching band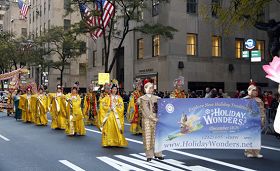 The NTDTV Holiday Wonders performance troupe draws the crowd's attention
The Falun Dafa group was made up of an exercise team and a waist-drum team. The banner at the front of the group read "Falun Dafa" and the banner held at the end of the procession displayed the words "Truthfulness, Compassion, Tolerance," and "Falun Dafa is Good." Many people in the audience enthusiastically applauded the performance by the Falun Dafa practitioners to show their support.
As the Falun Dafa group passed the stage, the announcer repeatedly read aloud the words on the banners and expressed his appreciation for the practitioners' participation in the parade.
Although many people had already heard about Falun Gong previously, they gladly accepted fliers to learn more. One woman asked where an exercise instruction site was, as she wanted to learn the exercises. Another woman asked a practitioner many questions about Falun Gong and tried to learn as much as she could.
Many Asian people were pleased to see the Falun Dafa group. A group of people from China looked surprised at first when they saw Falun Dafa in the parade. They quickly took photos of the Falun Dafa group's procession.
The group following Falun Dafa was the NTDTV Holiday Wonders performance troupe. They dressed in colorful and stunningly beautiful costumes. The elegant celestial maidens and the vibrant golden dragon received warm applause from the crowd. Many people took pictures to capture the magnificent scene.