Ms. Xie Fengting from Hebei Province Died in 2002 as a Result of Police Brutality (Photo)
(Clearwisdom.net) Practitioner Ms. Xie Fengting, 61 years old, lived in Dongwangpo Village, Wangpo Township, Pingshan County, Hebei Province. She used to have high blood pressure, hepatitis, ulcers, kidney disease, kidney stones, and lower back and leg pain. She could not find any cure, eventually, she could not walk. She cried every day and even thought of suicide. Ms. Xie started practicing Falun Dafa in June 1999, and happily, all her illnesses soon disappeared. She used to tell everyone, "It is Master Li who saved me; he gave me a second life." She upheld her faith after Jiang's regime began persecuting Falun Gong.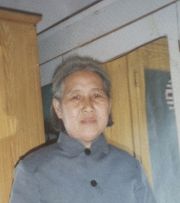 Falun Gong practitioner Ms. Xie Fengting
One night in November 2000, at around 10:00 p.m., Wangpo Police Station Deputy Director Huo Jinhui (male) led three Wangpo Township officials to storm into her home. They tried to make her give up her Falun Gong books. Ms. Xie sat on the nightstand where she kept her Falun Dafa books. Huo punched her in the chest very hard. She fell down on the floor, and they took her books away. They also took her husband Liu Luchang into custody and cruelly beat him.
After one hour, Ms. Xie' daughter-in-law found Ms. Xie on the floor unconscious and rushed to the township's police station. She said, "My mother-in-law is unconscious on the floor, we need to have her taken to the hospital." Huo Jinhui was afraid to be held responsible and released her husband, Mr. Liu Luchang.
Ms. Xie Fengting suffered a mental breakdown as a result of Huo Jinhui beating and threatening her. She developed high blood pressure, and could not take care of herself. Finally, she died on February 9, 2002, at the age of 61.