Sydney, Australia: Rally in Support of the 26 Million Who Have Quit the CCP (Photos)
October 04, 2007 | By Yunyun in Sydney
(Clearwisdom.net)
[Editor's note: October 1 is what the Chinese Communist regime claimed to be National Day.]
On October 1, 2007, Monday, a number of civic groups in Australia held a rally in Sydney's Chinatown. Participants held display boards and banners forming a "Great Wall" in support of the "three withdrawals" (withdrawing from the Chinese Communist Party, the Youth League, and the Young Pioneers) and the nearly 27 million brave people who have already quit the CCP and its affiliated organizations.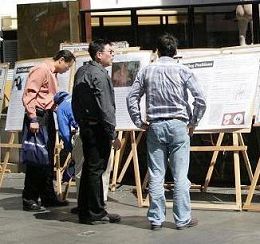 Passersby stopped to read display boards clarifying the facts about the persecution of Falun Gong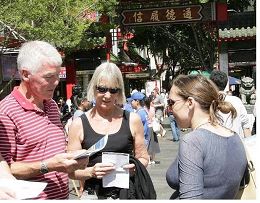 People took flyers to learn about CCP crimes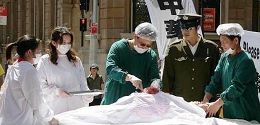 Reenactment exposing the CCP harvesting organs from living Falun Gong practitioners for profit
Lu Zhenlei, a representative of the Service Center for Quitting the CCP, said, "October 1 is a day of shame for the Chinese people. Over the past 58 years, they have lost their dignity and basic human rights under the CCP's tyrannical rule. The CCP has never stopped its persecution of the Chinese people, and has caused more than 80 million unnatural deaths through its political campaigns. Since 2005, the Global Service Center for Quitting the CCP has designated October 1 each year as 'China's National Day of Mourning' and 'The Day the CCP Usurped Power.""
Pictures on display boards exposed the crimes that the CCP has committed against the Chinese people during its 58-year-long dictatorship. People from all walks of life recounted their painful experiences under the CCP dictatorship. They also reenacted the CCP's harvesting of organs from living Falun Gong practitioners. People passing by were shocked at the CCP's brutality.
Lu Zhenlei continued, "Over the past 58 years, the CCP has relied on lies and violence to bring the Chinese society to the edge of complete destruction of its social, moral and ecological systems. The entire Chinese nation has been plunged into a deep crisis. The CCP has relentlessly killed people and damaged the environment. Its crimes offensive to Gods and the people have been numerous. The CCP's October 1 National Day holiday is a day of suffering for the 80 million people killed under CCP rule and a day of mourning for the Chinese nation."
He called on the Chinese people to declare their withdrawals from the CCP and its affiliated organizations.
The Divine Land Marching Band gave a resounding performance, and many passersby learned about the purpose of the event.