Taiwan: Falun Gong's Divine Land Marching Band Shines at the 2007 Taiwan National Athletic Games (Photos)
October 31, 2007 | By a Falun Dafa practitioner from Taiwan
(Clearwisdom.net) On October 25, 2007, the Falun Dafa Divine Land Marching Band led athletes from around Taiwan and entered the closing ceremony of the 2007 National Athletic Games. The band, comprised of 125 Falun Gong practitioners, slowly walked toward the podium in a majestic march while playing music that resounded throughout the area. Following the band, was a fleet, including the mayor of Tainan City and the athletes.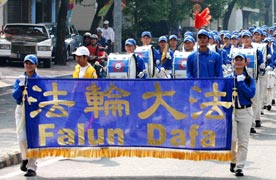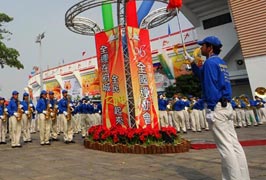 The Divine Land Marching Band led the parade of athletes at the closing ceremony of the biannual Taiwan Athletic Games.
The Taiwan National Athletic Games is the largest biannual sports event. At the opening ceremony on October 20, 2007, tens of thousands of fans joined the athletes, cheerleaders and performers. Major media gathered at the scene and broadcast the event live. Taiwan's president, Chen Shui-Bian, and premier, Yuan Chang Chun-Hsiung, attended and spoke at the ceremony.
During the introduction of the band, the master of ceremonies said: "Members of the Falun Dafa Divine Land Marching Band come from all walks of life and follow Truthfulness-Compassion-Tolerance. They wish to bring brightness and beauty to the world through music and wish the event great success!" In the background the band was playing "Falun Dafa is Good."
Following "Falun Dafa is Good," the band played "Drums and Trumpets Shake the World in Ten Directions," "Presenting a Treasure," " Ode to Buddha's Grace," and "The Fa Rectifies the Cosmos" at the end of the opening ceremony to send off the guests. "The crowd stopped and cheered for us. The interaction between us and the crowd was great," said band member Ms. Wu.
In the afternoon on October 25, 2007, at the end of the games, Mayor of Tainan City Hsu Tain-Tsair and outstanding athletes from the Asian Games and Olympic Games formed a parade that was again led by the Divine Land Marching Band. The parade started in front of the Tainan Municipal Sports Stadium and ended at the Tainan Municipal Cultural Center. During the parade, Mayor Hsu gave the thumbs up to express his admiration for the band. Following the parade, the closing ceremony was held.
Falun Dafa, a.k.a. Falun Gong, was introduced to Taiwan in 1995 from mainland China. The practice has had tremendous effects in restoring people's health. Practitioners follow the principle of Truthfulness-Compassion-Tolerance in order to become good people with a high moral standard. Part of the expression of their practice is to preserve the values of traditional Chinese culture. Currently, there are over 500,000 people practicing Falun Dafa in Taiwan and there are close to 1,000 practice sites throughout Taiwan and its three islands of Penghu, Kinmen and Matzu.