Japan: Falun Dafa Practitioners Participate in the 34th Annual Sakai City Carnival in Osaka (Photos)
October 27, 2007 | By a Falun Dafa practitioner in Osaka, Japan
(Clearwisdom.net) On October 21, 2007, Falun Dafa practitioners in Japan were invited to take part in the annual Sakai City Parade and stage performance in Osaka.
Practitioners demonstrated the exercises on the stage as people watched and learned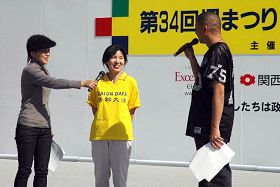 After the stage performance, the host of a radio station interviewed a representative of Falun Dafa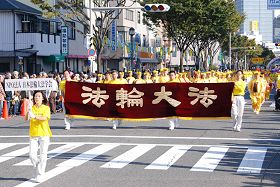 Practitioners in the parade

Waist drummers in the Falun Dafa contingent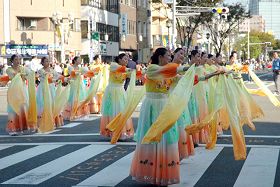 Practitioners dressed in "Celestial Maiden" costumes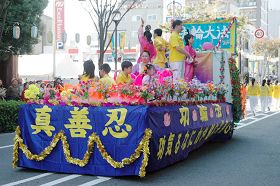 The float designed by practitioners
Osaka is the economic and cultural center of Japan, and Sakai is the second largest city in Osaka. Sakai has a population of more than 83,000 people, and approximately 40,000 attend the Sakai City Carnival held annually in the autumn.
On this particular day, the weather was clear and fresh. More than 100 Falun Dafa practitioners took part in the Sakai City Carnival stage performances and the large scale parade. On the stage they performed a number of times and did the "Flower Fairy" dance, sang "Falun Dafa is Good," demonstrated the exercises, and also performed a morin khuur ("horse-head" fiddle) solo. When they demonstrated the exercises, many people copied their movements.
The local radio station reported on the performances and interviewed the Falun Dafa representative. In the interview the practitioner said, "Falun Dafa is a very good cultivation practice, which has spread all around the world." She also added that she hoped everyone would come and learn.
In the parade, the practitioners' contingent was led by the waist drummers, followed by the exercise demonstraton, then the flower float, and finally the "Celestial Maidens." Practitioners' outstanding performances won enthusiastic applause from the audience, and attracted many comments of support.
During the parade, the event organizers introduced Falun Dafa to the audience many times. They described Falun Dafa as a practice of mind and body, which allows one to reach a very high realm through daily exercise and the refining of one's character.