Vocal Competition Presents to the World the Beauty of Traditional Chinese Culture (Photos)
(Clearwisdom.net) (Note: Some of the names below are translated based on Chinese Pinyin due to lack of original English names.)
NTDTV hosted the first International Chinese Vocal Competition from October 15 to 17, 2007 in Kaufmann Concert Hall in New York. More than one hundred professional vocalists from over twenty countries and regions applied for entrance into the competition. This competition provides a platform for professional and amateur vocalists to learn from each other and improve themselves. It is also a grand cultural event to restore and promote the orthodox vocal arts of the East and the West. It brings beauty, hope and a bright future to humankind.
NTDTV's Vocal Competition Encourages Chinese People to Be Involved in Vocal Arts
Ch'ing-Chi Sun, Chairperson of the Association of Vocal Artists of the Republic of China, said that NTDTV hosted the competition to encourage Chinese people to participate in vocal events and to better their understanding of the vocal arts. He has high expectations for the competition and expressed his wish for the success of the competition. He said: "It is great news for Chinese communities around the world to learn that NTDTV will host the Vocal Competition this year. It can encourage the participation of Chinese people in the vocal arts. They are certainly happy to see it taking place. I hope and expect it to be a great success."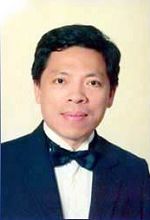 Ch'ing-Chi Sun, Chairperson of the Association of Vocal Artists of the Republic of China
Mr. Sun said that music can express deep emotions and vocal music can be the most moving.
Mr. Sun said that basically there are three categories in vocal music: Eastern and Western classical songs, folk songs and opera. He said that vocal music originated from people's belief in God.
Mr. Sun also said that the most essential apsect for a vocalist to interpret a work is the expression of emotions. He believes vocal music has profound meaning, mainly because the lyrics are composed from poetry.
The Association of Vocal Artists of the Republic of China was established in 1992 and includes a group of enthusiastic vocal artists. They hope to promote the vocal arts, advance the standard of vocal education, and also promote modern vocal works and international exchange. They hope that the culture of Taiwanese music will flourish through their efforts.
Vocal Competition Helps to Restore Purity of Culture
Vocalist Wu Yinjing (吴垠暻), Professor from Sejong University, South Korea, graduated from the Vocal Music Department of Seoul National University and obtained a Masters degree from the Manhattan School of Music and a PhD from Stony Brook University (SUNY). Ms. Wu played many roles in opera performances. She is a well-known vocalist in Korea.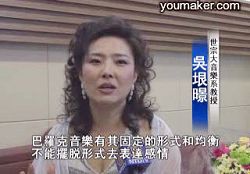 Professor Wu from Sejong University
Professor Wu said that the music that touches people's hearts comes from the joint efforts of composers, experienced musicians and devoted audience members. It is important that the audience appreciate the music with a pure heart and not merely listen with a critical mind.
Professor Wu learned of the International Chinese Vocal Competition a while ago and expressed her congratulations to the opening ceremony. She said: "It is a great thing to hold such a competition to nourish vocalists."
She hopes that NTDTV's Vocal Competition can play a pioneering role to restore the purity of the art amidst the current circumstances of many cultures losing their purity.
Vocal Competition Presents the Beauty of Chinese Culture on the World's Stage
Tenor Hung-Chang Wu, Director of Kaohsiung City Chinese Orchestra, praised the first International Chinese Vocal Competition and said that it was a good opportunity to introduce the beauty of Chinese culture to the world through vocal arts.

Tenor Hung-Chang Wu, Director of Kaohsiung City Chinese Orchestra
Mr. Wu studied vocal music in Italy. He has gained reputation locally and internationally for his rare oriental, deep and full voice. He was praised as the "Charismatic Tenor." He said that true art would display the spiritual realm of truth, compassion and beauty. Nourished by such profound music, he said he could deal with everything he came across with compassion and singing made him cherish all lives more.
Mr. Wu believes that the NTDTV Chinese Vocal Competition is a good opportunity to unite Chinese singers and to present Chinese culture to the world through folk singing and Bel Canto.
Mr. Wu returned to Taiwan after he completed his studies in Italy in 1991. He established the Taiwan Choir in 1992. Since February 2004, he has been Director of Kaohsiung City Chinese Orchestra. In September 2005, the Orchestra performed at Lincoln Center for the Performing Arts in New York, and he performed as Tenor and enjoyed great success. It was the first professional Chinese orchestra to play at Lincoln Center.
The Vocal Competition Provides a Platform for International Exchange
David Ke (柯大卫), a famous Tenor in Hong Kong, was born in Penang, Malaysia. He won first prize at the Australian Mary Ann M. Vocal Competition. At present he is a vocal professor teaching at an art institute in Hong Kong. He welcomed NTDTV's Vocal Competition and appreciated the opportunities it provided for vocalists to have a platform for international exchange.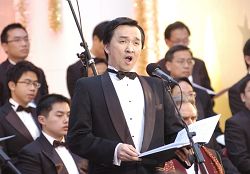 David Ke
David Ke said, "The Vocal Competition is a good beginning. We always talk about globalization. Now, there is the Internet. Once something is put on the Internet, anyone, anywhere can see it. I hope many people come to attend this International Chinese Competition and bring with them different songs and share different experiences. The problem we have is that there are few vocal competitions held by Chinese. NTDTV initiated the competition and provides a good opportunity for others."
First International Chinese Vocal Competition Promotes Orthodox Vocal Singing
He-Shun Yao, professor from National Taipei University of Education and well-known baritone, graduated from the Conservatory of Music in Germany and Austria. At a press conference for a concert hosted by the National Taipei University of Education, he encouraged singers to attend the first International Chinese Vocal Competition. He hopes Taiwanese folk songs can be presented to the world stage by way of singing in Bel Canto. More importantly, he said, this competition promotes orthodox vocal singing.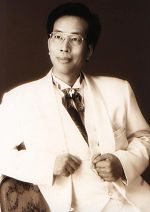 He-Shun Yao
Mr. Yao teaches Bel Canto at National Taipei University of Education and is also a medical consultant on therapeutic music at Taipei Veterans General Hospital.
Enjoy the Grand Event and Promote the Pure Orthodox Culture
NTDTV devotes itself to the restoration of traditional Chinese culture. Starting in March of next year, it will introduce a series of international Chinese competitions. This cultural renaissance includes the restoration of the cultural connotation of compassion and the cultural expression of pure beauty. It will restore the moral belief and moral standard that traditional Chinese culture carries, including respecting Heaven, cultivating virtue, and cherishing the virtues of benevolence, courtesy, wisdom and belief. It also promotes the display of Chinese culture with the beautiful customs including attire, cuisine, dance, vocal music, instrumental music, painting and photography.
NTDTV hopes that these various competitions attract artists with different backgrounds and from different regions, and also audiences from different countries who have the wish to promote pure, orthodox culture. It hopes to provide them platforms for discussion and sharing of their experiences and specialities and to work together to make these competitions grand events.