International Chinese Vocal Competition Assists Chinese People Worldwide to Discover Their Cultural Roots (Photos)
(Clearwisdom.net) New Tang Dynasty Television (NTDTV) will host the first International Chinese Vocal Competition in Kaufmann Concert Hall in New York City, from October 15-17. The competition will bring more than 100 talented Chinese vocalists together, who will compete in front of a live audience in two categories - "Chinese Folk Singing" and "Bel Canto". The competition has received high remarks from many achieved vocalists around the world.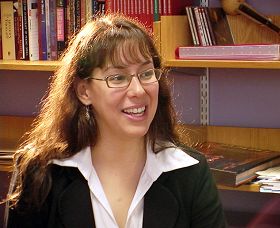 Dr. Kim Chow-Morris, a third-generation Chinese immigrant, teaches philosophy and music at Ryerson University. She highly commended NTDTV for its commitment to promoting authentic Chinese culture. She said that the competition is exciting and offers a great opportunity for second and third generation Chinese immigrants to rediscover their cultural roots.
Dr. Chow-Morris believes that one function of music is to harmonize the human being with nature and to promote communication between people. She said, "I send my greetings to the NTDTV audience and wish the best for the vocal competition. I hope that the competition will be held annually and continue to grow."
Dr. Chow-Morris is the founder of York University's Chinese Orchestra and has performed on the dizi and xiao (Chinese flutes) in many venues around the world.
Upon hearing news of the vocal competition, renowned Taiwanese-Canadian vocalist Hung-chwun Liu was very pleased. She believes that this competition will provide a good opportunity for talented young vocalists.
Renowned Taiwanese-Canadian vocalist Hung-chwun Liu
Ms. Liu said, "There are many young talents, including some of my students, but they rarely have opportunities to get known, as there are few competitions available for them to participate in. The vocal competition organized by NTDTV is great, as it provides such an opportunity. I hope people will encourage young talents around them to participate in this competition."
Hung-chwun Liu is a registered music teacher recognized by the Royal Academy of Music. Besides teaching and directing a local chorus, she is very active in local multi-cultural and charity activities.