Rhode Island: Divine Land Marching Band Appears in New Uniforms, Amazes the Audience (Photos)
October 11, 2007 | By a Falun Dafa practitioner in Rhode Island
(Clearwisdom.net) The 29th Annual Columbus Day Parade was held on October 8, 2007, in Woonsocket, Rhode Island. Falun Gong practitioners were among the first to be invited to participate in the parade. The Falun Gong entry included the Divine Land Marching Band, a Dragon Dance Troupe and a "Celestial Maidens" dance troupe. They were a colorful and popular parade highlight. Over 100-strong, the Divine Land Marching Band wore their beautiful new blue and white uniforms for the first time. They performed musical selections including "Falun Dafa Is Good," "Fa Drums and Fa Trumpets Shake the World of Ten Directions," "America the Beautiful," and "Fa Rectifies the Universe," which touched the hearts of many of the tens of thousand spectators.
The Divine Land Marching Band took part in the 29th Autumn Columbus Day Parade in Woonsocket
The style of the Divine Land Band's new uniforms is traditional for a royal court band. The Band's performance was warmly received by the spectators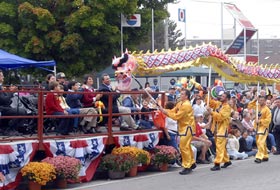 Dragon Dance Troupe and the "Celestial Maidens" dance troupe were warmly welcomed
Trumpeter Steven Gigliotti of the Divine Land Marching Band said that the new uniforms are in a style that is traditional in China for royal court bands and are completely different from the uniforms they wore before. The front and back of each uniform is imprinted with the traditional Chinese character Yue, meaning music. The uniforms include matching shirts, pants, hats, and boots.
Trombonist Mr. Li said that the new costumes are brilliantly colored bright and totally different from other bands. The new uniforms more accurately display traditional Chinese culture.
The conductor of the band said that every aspect of the performance is coordinated, from the name of the band, to its thunderous music, to the new uniforms. All the pieces are now in harmony, as clothes and demeanor are interrelated. They want to display styles reflecting China's 5,000 years of history and culture, bringing pure beauty, truth, and an uplifting spirit to the world's people.
Enthusiastic spectators along the parade route continuously approved and applauded. They complimented the Falun Gong entry as being of high caliber. Radio and television stations in Rhode Island broadcast the parade live. The organizer has expressed the hope that the Divine Land Marching Band will come to the parade again next year.