Venezuela: Practitioners Clarify the Facts in Caracas (Photos)
October 01, 2007 | By a practitioner in Venezuela
(Clearwisdom.net) From 2 to 4 p.m. each day on September 20 to 24 , 2007, Falun Gong practitioners in Venezuela conducted a truth-clarification activity on Bryon Plaza in Caracas.
People come to learn the facts described on the poster boards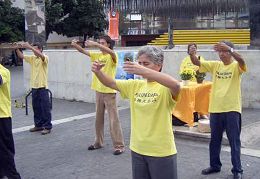 Demonstration of Falun Gong exercises
There is a subway station and a shopping center near Bryon Plaza, where many people pass by. Falun Gong practitioners distributed leaflets to passers-by and set up poster boards to expose the Chinese Communist Party (CCP)'s persecution of Falun Gong and introduce the benefits of practicing Falun Gong.
Another table was set up along side and there were two signature collection forms with petition letters, one strongly condemning the CCP's atrocities of organ harvesting from live Falun Gong practitioners and the other calling for an end to the CCP's persecution of Falun Gong and for the release of practitioner Wang Zhiwen. He was taken away in 1999 by the police and later sentenced to16 years of imprisonment.
Many people learned the facts about Falun Gong and expressed a desire to learn the exercises. A high school student learned the exercises on the spot and said he would continue practicing. The location is near a police station. Many police passing by also accepted truth-clarification literature.