Korean Falun Gong Practitioners Urge Singapore Government Not to Be An Accomplice of the CCP (Photos)
(Clearwisdom.net) On January 25, 2007, Korean Falun Gong practitioners held a press conference outside the Singapore Embassy to Korea to protest the Singapore authorities' unfair trial against innocent Falun Gong practitioners.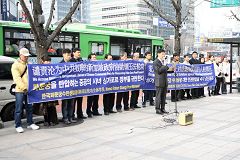 Korean Falun Gong practitioners held a press conference outside the Singapore Embassy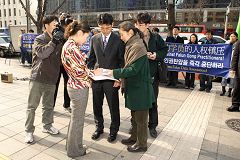 Representatives of the practitioners presented an open letter to a staff member of the Embassy
The practitioners displayed a giant banner condemning the Singapore Government for its persecution of Falun Gong practitioners in order to please the Chinese Communist regime. As soon as the banner was unfurled, two security personnel from the Embassy building came out to interfere. Nevertheless, the practitioners were determined to display the banner and the press conference moved along smoothly as scheduled. After the press conference, the practitioners delivered an open letter to the Embassy.
In the letter, Korean practitioners strongly requested the Singapore Government to drop charges against the innocent practitioners and stop its underhanded deals with the Chinese Communist regime. The letter also called on the Singapore Government to resist the Chinese Communist regime's propaganda and violence and uphold human rights and freedom.
Reportedly, six Falun Gong practitioners in Singapore were put on trial on January 22, 2007, in the Singapore Subordinate Court for an event that occurred over two years ago. On November 23, 2005, the practitioners involved had been distributing flyers telling about the persecution of Falun Gong in China and supporting the Chinese people who had withdrawn from the Chinese Communist Party (CCP) and its affiliated organizations, along Orchard Road in Singapore. They were charged by the Singapore police with "assembling without a permit."
Many practitioners and supporters from different countries and regions came to the court, hoping to observe the trial proceedings. However, despite the defendant practitioners' repeated requests for a bigger courtroom, the trial in this case was still conducted in the smallest courtroom in the Subordinate Court, allowing for only eight chairs. The presiding judge refused to bring additional chairs into the court, as had been done in a previous hearing, and refused to move the trial to another courtroom. As a result, no family members, media, or supporters were allowed access to the courtroom, leading to the practitioners' protest. The judge found the practitioners guilty of contempt of court and sentenced them to two days in prison without possibility of bail or visitation. Due to extensive protest from people all over the world, the practitioners were released 14 hours later and the trial will be held in a larger courtroom.