Depraved Police in Sichuan Province Repeatedly Torture a Farm Woman (Photo)
(Clearwisdom.net) Ms. Wang Liqiong is a Falun Gong practitioner and a farmer from Dayi County, Sichuan Province. On the afternoon of May 29, 2006, Ms. Wang was harvesting kidney beans from her farm to be sold at the market the next day when a group of policemen came and arrested her at around 6:00 p.m.. Led by Captain Xiong Yong (in his 30s) from the State Security Team of Dayi County Public Security Bureau, several police from Dayi County Public Security Bureau, Dayi Criminal Police Team and Anren Town Police Station took Ms. Wang home by force and ransacked her place, leaving nothing unturned. They hauled her to the police car, took her to Anren Police Station and detained her at Liangping Detention Center that night.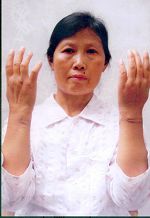 Ms. Wang Liqiong showing the scars from being handcuffed
Illustration of the torture
On June 1, 2006, Captain Xiong Yong transferred Ms. Wang to Dayi Public Security Bureau and handcuffed her by the wrists to the frame on top of a chair. With Ms. Wang's arms stretched over her head, Xiong Yong forced her to sit on the ground with her legs stretched straight. Anytime she bent her legs, Xiong Yong would step on her legs. Xiong Yong tortured her in this fashion for two days. On the morning of June 4, Xiong Yong repeated the torture for another half a day.
The torture caused Ms. Wang to be unable to lift her arms. She was illegally detained for 10 days and was not released until June 8.
On June 26, 2006, Ms. Wang was plucking weeds from a field when a group of police from Dayi Public Security Bureau, including Xiong Yong, You Anjun (male) and Liu Xuemei (female), as well as a policeman named Gao Song from Sujia Town, illegally arrested her. Other farmers witnessing the crime condemned them for the illegal arrest, and the police told them fiercely, "If you dare to obstruct justice, we will arrest you too."
Once taken to Dayi Public Security Bureau, Xiong Yong repeated the torture around the clock for two days, except this time he used three pairs of handcuffs. In the late afternoon when Xiong Yong had dinner and a few drinks, he returned to the office and started torturing Ms. Wang again. Xiong repeatedly slapped her hard on the face, choked her until she was about to pass out, repeatedly kicked her thighs and arms and stepped on her wrists. He kept cursing Ms. Wang during the torture. Late at night, another policeman named Huang Weidong from Anren Police Station pulled Ms. Wang's hair and said to her, "Let me wake you up."
On the late afternoon of June 27, Xiong Yong came to the office after dinner and told policeman You Anjun to leave the room. Xiong dropped on one knee on top of Ms. Wang's legs and repeatedly slapped her hard on the face. Next he repeatedly hit her with a shoe. He tried to suffocate Ms. Wang, cursed at her and said, "I will ruin your body and throw you into an insane asylum. You Falun Gong practitioners call me evil. Yes, I want to be evil. There is nothing better than being evil because I can torture you. What is the use of being kind? I will torture you until you wish you were dead."
On June 28, the police tortured Ms. Wang in the morning and put her back into Liangping Detention Center in the afternoon. As a result of the torture, Ms. Wang had become very weak. Her wrists were cut by the handcuffs. She could not lift her arms and, thus, had difficulty eating. She had no feeling in her left palm. Ms. Wang was held for a total of 12 days and was finally released on July 8, 2006.
Yan Po, Captain of the State Security Team of Dayi County Public Security, has repeatedly intimidated and threatened Ms. Wang Liqiong. He has also allowed the police to commit crimes against Falun Gong practitioners at will. Since the end of April 2006, the Chairman of Dayi County 610 Office Yang Liang, Captain of the State Security Team Yan Po, policemen Xiong Yong and others have illegally arrested over a dozen Falun Gong practitioners, including Ms. Wang Liqiong, Mr. Wang Xiaosong, Mr. Yu Shaoping, Ms. Zhao Chunrong, Mr. Li Guoliang, Ms. Yang Daiying, Ms. Gong Shulian, Ms. Yang Yuqiong, Yaya and others.
The Public Security Bureau in Dayi County, Chengdu City, Sichuan Province: 86-28-88225151
Chief of the Public Security and Secretary of the Political and Legal Committee, Su Peiwei
Anren Town Police Station: 86-28-88315422
Civil Administration Bureau: 86-28-88222639
Justice Bureau: 86-28-88222345
Agriculture Bureau: 86-28-88292102
Deputy Chairman of Dayi County People's Congress, Qiu Yongxu: 86-28-88222460
Deputy Chairman of Dayi County Political Association: 86-28-86345187, 86-28-88222452
Dayi County Office: 86-28-88222232, 86-28-88222457
Secretary of Dayi County Committee, Cai Yiru: 86-28-88210577, 86-28-88222232
Deputy Secretary of Dayi County Committee and Substitute Mayor, Yuan Xu: 86-28-88210577, 86-28-88222232
Deputy Secretary of Dayi County Standing Committee, Chen Dianyu (in charge of political and legal affairs): 86-28-88293964(H), 86-28-88223187(O)