Taiwan: Introducing the Grace of Falun Dafa (Photos)
January 17, 2007 | By Chou Rong
(Clearwisdom.net) "Do you come here to practice every day?" a tourist from the US asked while taking pictures. "He wants to learn it," a Taiwanese friend of the tourist added.

On the afternoon of January 13, many people came to the square by Chiang Kai-shek Memorial Hall to attend a festival. Falun Gong practitioners were there to spread the grace of Falun Dafa.
"You should work harder to spread Falun Gong. The teachings of Falun Gong, 'Truthfulness-Compassion-Forbearance' is really what that Chinese Communist Party (CCP) fears." Mr. Zeng came over to encourage the practitioners. One of his friends had gone to China and was killed unjustly. He stepped forward quickly to show his support when he saw practitioners holding a banner worded, "Falun Dafa."

To help more people learn about Falun Dafa, a group of practitioners came to the famous tourist site, Chiang Kai-shek Memorial Hall, to practice the exercises on a winter afternoon.
A young practitioner distributes bookmarks
A woman from China and her husband carefully listen to a practitioner's explanation of the persecution, how evil the CCP is, and why they should quit the CCP and its affiliated organizations
International tourists feel the grace of Falun Dafa and come over to learn what Falun Dafa is
In contrast to the noisy entertainment held on the square, the practitioners' exercise music and graceful movements were gentle, peaceful, and harmonious. Many passersby were attracted by the peace and harmony. Some stopped to watch, some simply sat down to enjoy, some took pictures, and some even followed along with the practitioners' hand gestures.
People have heard of Falun Gong because of the CCP's suppression of the practice over the past seven years. Many people still have a lot of questions. Through their contact and talks with practitioners, many of the CCP's lies fabricated to frame Falun Gong were dissolved in their minds.
A reporter from a TV network that has never reported on Falun Gong passed by, stopped out of curiosity, and asked questions. Practitioners explained about the CCP's persecution and torture of Falun Gong practitioners. "Practitioners in China are just like the group you see here, seeking to improve their health and to be good people. However, the CCP not only persecutes them with all kinds of torture, but also harvests their vital organs for profit while they're alive."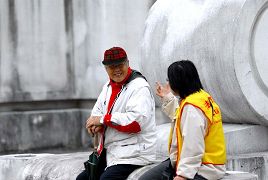 The reporter nodded while reading the introductory materials and asked the photographer to take some footage. The practitioner added, "The CCP is not only afraid of the defenseless practitioners but also fears the New Tang Dynasty Television Station (NTDTV)'s Chinese New Year Spectacular, which is merely to promote Chinese traditional culture overseas through dance and song. The CCP has ordered its secret agents to try to stop or at least intervene in NTDTV's New Year Spectacular." "The CCP always suppresses good," a gentleman taking pictures nearby said after listening to the practitioner's explanation.
When tourists from Mainland China arrived on buses, the Divine Land Marching Band, composed of Falun Gong practitioners, was rehearsing nearby. The music of "Falun Dafa is Great" resounded through the skies. People nearby were soon attracted and some even walked along with the band while enjoying the music, which deeply impressed the Chinese tourists.

Practitioners thoroughly introduced the persecution of Dafa to a reporter from a media outlet that had never reported Falun Gong news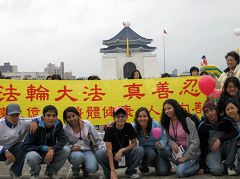 A group of students from South America show interest in Falun Gong, and learn the facts by talking with practitioners. They had a group photo taken in front of the banner worded "Falun Dafa."
In addition to Chinese tourists, tourists from France, Japan, Korea, the US, and India, as well as a group of youth from South America learning Chinese witnessed the grace of Falun Dafa that weekend afternoon.