Mr. Yin Anbang, 38, a Practitioner from Harbin City, Heilongjiang Province, Persecuted to Death at Tailai Prison (Photo)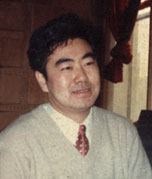 Mr. Yin Anbang
(Clearwisdom.net)
Mr. Yin Anbang, a practitioner from Harbin City, Heilongjiang Province, was persecuted cruelly and repeatedly. On the afternoon of August 15, 2006, he was persecuted to death at the age of 38 at Tailai Prison in Qiqihar City.
Mr. Yin was born in 1968. He was a former teacher at the Heilongjiang Provincial Party School. After the Jiang regime started persecuting Falun Gong on July 20, 1999, Mr. Yin persisted in cultivating in Dafa. As a result, he was repeatedly and "illegally detained" by the officials from his workplace. In February 2001, when he was at work, he was arrested and taken to a Drug Rehabilitation Center and required to attend the so-called 'Provincial Subsidiary Mandatory "Transformation Class."' He was brainwashed and cruelly persecuted there. Later he was illegally sentenced to imprisonment at Changlinzi Forced Labor Camp. In April 2001, he was violently beaten.
On August 10, 2001, in the dining room of Changlinzi Forced Labor Camp, seventeen practitioners from the Forth Brigade including Mr. Yin, Mr. Zhang Lin and Mr. Wei Hongwei were tightly bound and forced to sit on the ground in a line. Political Instructor Wang Yu'ou and two wardens of the Fourth Brigade, Wang Baofeng and Wang Lei, along with other prisoners, severely beat the practitioners. Mr. Zhang Lin was injured most seriously. His two front teeth were knocked out, both eyes were swollen and he could no longer see, an eardrum was perforated, and he sustained injuries all over his body. Many prisoners and wardens were involved in this criminal incident, even Shi Changjing, the deputy director, who directed the persecution on-site. The evil atmosphere permeated the premises. On August 21, more than fifty practitioners went on a hunger strike to protest the severe persecution.
When Mr. Yin Anbang was released from the forced labor camp, to avoid being further persecuted, he did not return to his previous job teaching at a private school. In October 2005 when he was clarifying the truth of Falun Gong to his students in a class at the Far East College of the University of Technology in Harbin City, he was reported to police. A Party staff member with the university fired him. Ten days later he was reported to the local 610 Office. He was illegally arrested from his home by the State Security Division of the Daoli District in Harbin City on the evening of November 12, 2005.
Mr. Yin was detained at the Detention Center of Daoli Police Substation. He protested his innocence and went on a hunger strike for twenty days to protest the persecution. As a result, his life was in danger, and his family members repeatedly asked for his release. The officials in the Procuratorate sent fabricated records to the court to prosecute him. On February 5, 2006, the Chinese Communist Party (CCP) court in the Daoli District illegally and secretly tried Mr. Yin. He was sentenced to four years of imprisonment in Hulan Prison.
In late April 2006, Mr. Yin was transferred from Hulan Prison to Tailai Prison in Qiqihar City, where he was persecuted further. He held a hunger strike at Tailai Prison for a long time to protest the persecution. By August 15, 2006, he had been persecuted to death.
Practitioner Mr. Bai Shijun from the Songling District of Daxingan Mountain District was sentenced to four years of imprisonment in October 2005. At present he has been persecuted so severely that he has heart disease, kidney failure, and pneumonia. His life is in danger. According to a provincial document, the prison claimed that there was an epidemic situation, so they did not allow any medical paroles or any family visits. They again refused to grant Mr. Yin a medical parole some time later, saying that he had refused to be "transformed."
Phone numbers for Tailai Prison, Heilongjiang Province:Tailai Prison: 452-82345377, 8237256, 88229376, 82255147, 8237274, 8237943
Prison director Zhao Rubin: 452-8229203
Discipline Inspection Commission, supervision: 452--8225504
Secretary of Discipline Inspection: 452--8229207
Procuratorate, branch office at Tailai Prison: 452-55120398
Prison Political Division: 452-8225443
Prison office: 452-8237949
Yang Xiuhong, head of the No. 8 district in the jail: 86-452-8238143 (Office), 86-13514679200 (Cell)
Li Weiming, head of the No. 2 BrigadeAugust 29, 2006