Mr. Liu Yufeng's Wife Files a Legal Complaint in the Torture-Related Death of Her Husband (Photo)
(Clearwisdom.net)
Lawsuit Statement
Plaintiff: Falun Dafa practitioner Ms. Lin Junlan, wife of Falun Dafa practitioner Mr. Liu Yufeng, 66 years old and resident of Xiaozetou Village in Songcun Town, Wendeng City, Weihai Prefecture, Shandong Province, who was tortured to death.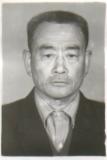 Tortured to Death: Mr. Liu Yufeng from Wendeng City, Shandong Province
Defendants: Wendeng City Police Department Officials
On July 18, 2000, around 6 p.m., the Wendeng City Police Department arrested and then detained Mr. Liu Yufeng in the Wendeng City Detention Center without due cause. They did not notify Mr. Liu's family within the time period specified under the law. The officers Cong Shuxin (male) and others from the Political Security Office brutally tortured Mr. Liu Yufeng, shocking him with high voltage electric batons. According to eyewitnesses, Mr. Liu Yufeng was "jumping" due to the severe shocks. Mr. Liu Yufeng was dying because of such cruel torture, but Cong Shuxin and the others still ordered prisoners to beat Mr. Liu Yufeng and intentionally tried to kill him.
In order to escape responsibility, on July 22, 2000, around 9:00 p.m., the fourth day of Mr. Liu's unlawful detention, the Wendeng City Police Department instructed Mr. Liu's family to come and get him. Mr. Liu's family found Mr. Liu's body deformed. He was covered with bruises from head to toe, his neck was crooked, and his arms and legs were paralyzed. When he was carried into a taxi by his family member, his pants simply fell off of him, a scene too tragic to witness.
On July 23, the following day, Mr. Liu Yufeng died at 6 a.m. at home.
On the same day, Wendeng City Justice Bureau arranged an autopsy because they said the cause of Mr. Liu's death could not be determined. Mr. Liu's three family members--Mr. Liu Zhigang, Mr. Liu Zhiqiang, and Mr. Hou Yongqiang--were present at the autopsy, as well as Wendeng City CCP Political and Judiciary Committee Chairman Liu Yujiang (male), Wendeng City Deputy Chief Procurator Song (first name and gender unknown), the Wendeng City Court Director, the Officer from the City Police Department, and the forensic doctor from the City Procurator.
The autopsy produced the following findings:
A 3.5 x 4 cm bruise on the outer side of his right eye
Wounds and cuts on his face
A 2 cm large bruise on his throat
Various bruises on his two arms
A bruise of around 25 x 34 cm on his chest
Various bruises on his two legs. Skin peeled off and soft tissue damage on the legs
A large area of bruises on his back
Bleeding and inflammation of the brain
Broken ribs (ribs #2-4 broken)
Breastbone broken at the top
The autopsy proved that Mr. Liu Yufeng's death was cause by foreign forces, not by harming himself.
The Defendants have followed Jiang's political scoundrel regime, trampling on the law and killing at will. In order to escape retribution, they extended several prisoners' terms, hoping to avoid their own legal responsibilities.
Plaintiff's request:
Bring the true killers, Con Shuxin and the others, to justice.
Have them pay the plaintiff's damages according to international legal regulations.
Ms. Lin Junlan
September 21, 2006
[Please submit to the United Nation Human Rights Organizations, the World Organization to Investigate the Persecution of Falun Gong (WOIPFG), and the International Court.]