Macau: Falun Gong Practitioners Deliver Open Letter to Liaison Office to Protest Bo Xilai's Upcoming Visit (Photos)
September 22, 2006 | By a Falun Gong Practitioner in Macao
(Clearwisdom.net) Bo Xilai, a close adherent of Jiang Zemin's Falun Gong persecution policies, has been sued in the U.S., the U.K., Germany, Ireland, New Zealand, Russia, Australia, Korea, Spain and other countries around the world in the past two years. During his visit to Sweden on September 15, 2006, Bo was sued for torture and murder. According to the Macau government, Bo Xilai will attend the ministerial meeting at the Economic Co-operation Forum between China and Portuguese-speaking Countries on September 24-25. To expose Bo's crimes, twelve Falun Gong practitioners delivered an open letter to the Liaison Office at 9:00 a.m. on September 20.
When Falun Gong practitioners arrived at the Liaison Office, the front door was guarded by twenty Liaison Office employees and plainclothes police. It was a tense atmosphere. Under everyone's close attention, Falun Gong practitioners read aloud their protest letter exposing the crimes of Bo Xilai, and submitted the letter to a representative of the Liaison Office.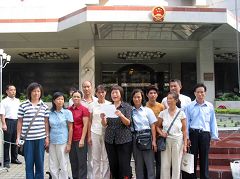 Falun Gong practitioners read aloud their open letter exposing Bo Xilai's crimes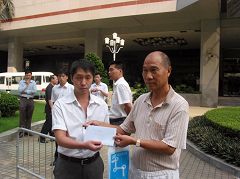 A Falun Gong practitioner (right) submits the open letter to a representative of Liaison Office (left)
The open letter pointed out that at his former position as Liaoning Provincial governor, Bo spent one billion yuan on jail renovations. More then half of it went to the notorious Masanjia Forced Labor Camp, where eighteen female Falun Gong practitioners were stripped naked and thrown into prison cells with male criminals, who raped the women. The international community was shocked upon leaning of the incident. Both heaven and humans were enraged. Other labor camps in Liaoning Province, including Dabei Jail, Zhangshi Labor Camp, Longshan Labor Camp and Dalian Labor Camp, also use cruel methods to torture Falun Gong practitioners.
Falun Gong practitioners plan to continue their protest during Bo's visit to Macau, to clarify the true story of Falun Gong to all circles of society, and to tell the people in Macau and tourists about the cruel persecution of Falun Gong by the Chinese Communist Party. They are striving to awaken people's conscience and stop these unprecedented and most evil anti-human crimes.