Taiwan: Falun Gong Practitioners from Chiayi Hold a Group Fa-Study and Experience Sharing (Photos)
September 22, 2006 | By Jin Ding
(Clearwisdom.net) On September 17, 2006, Falun Gong practitioners from Chiayi held a large-scale group Fa-Study and experience sharing conference at Tungshi High School, in Puzih City, Chiayi County. More than one thousand practitioners attended the Fa-study. Many practitioners from other areas also attended.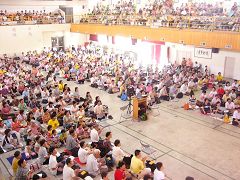 More than one thousand practitioners attended the Fa-study
In the morning, practitioners split into 22 small groups to study the Fa together. Practitioners from different cities were mixed into different groups so that they could share their experiences with different people. A study group for young practitioners was also organized.
Before the experience sharing in the afternoon, a group of young practitioners performed waist drums, which was very well received by the practitioners.
During the experience sharing, one practitioner shared his story of how his illness was healed by cultivating Falun Gong. He wept, saying, "Thank you Master, Thank you Dafa."
A middle school teacher said that he felt the beauty of Dafa and wanted to share it with others. So, with the permission of the school principal and parents, he teaches his students Falun Gong during the lunch break. After a period of time, the students improved their behavior and grades. Some teachers at his school asked him for help to discipline some naughty students, and he successfully improved those naughty students' behavior using the principles of Falun Dafa. This practitioner said that there are currently thirty students learning Falun Gong from him during the lunch break.
One practitioner encouraged other practitioners to clarify the truth to the Chinese visitors in Alishan tourist spots.
A practitioner from Budai Town, Chiayi County said that he attends every group Fa-study and sharing, and he benefits a lot from the sharing every time.
The organizer said that more and more people in Taiwan have started practicing Falun Gong, which benefits the entire society.