Israel: Practitioners Continue Truth-Clarification Activities after the War between Israel and Lebanon Ends (Photo)
September 16, 2006 | By an Israeli practitioner
(Clearwisdom.net) On September 8, 2006, Israeli practitioners held a truth-clarification activity in a shopping center in downtown Tel Aviv to expose the CCP's cruel persecution of Falun Gong practitioners in China.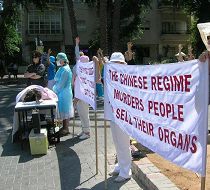 It was very hot, with temperatures reaching 32-34 degrees Celsius. Nevertheless, the practitioners still went forward with their activity under the burning sunshine. In order to let more Israeli people know about the persecution of Falun Gong, the practitioners made a series of banners worded: "Stop the Persecution of Falun Gong," "The CCP Harvests Organs from Living Falun Gong Practitioners," etc. During the activity, they reenacted the CCP's atrocity of harvesting of organs from living Falun Gong practitioners.
The war between Israel and Lebanon has only just ended, and the political situation and the mood of the people in Tel Aviv are still tense. The new challenge that the Israeli practitioners face is how to clarify the truth and let people know about Falun Gong. However, due to practitioners' unrelenting efforts, many passersby stopped to look at the poster boards, learned the facts, and signed the petition calling for an end to the persecution.