Mr. Xin Minduo Tortured to Death in Nanshan Prison
(Clearwisdom.net) Falun Gong practitioner Xin Minduo was illegally sentenced to a 13-year prison term. He was imprisoned in Nanshan Prison in Jinzhou City, Liaoning Province on February 21, 2006. Because he knows he is innocent, he refused to follow any prison rules. He refused to wear the prison uniform, refused to do forced labor, and demanded to be released as he was not guilty of any crime. For these actions, he was put into a small cell by the police, force-fed, and subjected to many other inhumane tortures. On September 1, 2006, Xin Minduo was persecuted to death in Nanshan Prison.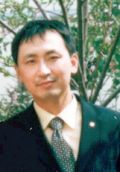 Mr. Xin Minduo
Mr. Xin Minduo, born on May 27, 1973, 33 years old, was a technician with a college degree. He was an employee of the Exploration Company of Liaohe Oil Field and the technical expert of the company. In 2001, he was sentenced to three years forced labor and was held in Panjin Forced Labor Camp. Xin Minduo and his wife Bao Juncen were arrested by police officers Xu Hao, Huang Haiou and others from the Panjin Police Department on August 3, 2005. The Chinese Communist Party (CCP) Xinglongtai District Court, Panjin City sentenced Mr. Xin Minduo to a 13-year prison term, and imprisoned him in Nanshan Prison.
Panjin Municipal Court gave no rational motive as to Ms. Bao Juncen's case. Her family was given an answer of "not judged at this time" when they went to the court for a judgment. Finally, his case was returned to the area where the case was initially filed ¡V the National Protection Team of Panjin City Police Department. Xuhao, Huang Haiou and other police officers from the National Protection Team sentenced Ms. Bao Juncen to one year of forced labor without any legal reason. They extorted 8,000 yuan from her family before they released Ms. Bao Juncen, who had been tortured in the Panjin Detention Center for almost eight months. They continued monitoring her even after she was released from the detention center. The police in Nanshan Prison, Jinzhou City didn't allow Mr. Xin Minduo's wife to see him because she also was a Falun Gong practitioner. The couple met only once after they were arrested.
In mid-June, 2006, four people from Jinzhou Nanshan Prison suddenly came to the home of Mr. Xin Minduo's father's and told his family, "Mr. Xin Minduo is on a hunger strike. His term will be extended or he will be transferred to Shenyang if he continues with the hunger strike..."
Between July and August, 2006, Mr. Xin's families contacted Jinzhou Nanshan Prison many times, and many times they were given permission for a family visit. However, each time they arrived at Nanshan Prison, they were told that they could not visit him after all.
Mr. Xin Minduo's elderly father didn't know anyone that could help him, so he stood outside the prison in the scorching sun. He could only look at the gate of the prison. He couldn't see his son. He got the cold shoulder from everyone he talked to. The eyes of the old man became blurry from all the anxiety, and half of his teeth fell out. He not only couldn't see his son, but was also threatened and insulted by the prison guards. One prison guard yelled at him rudely, "Your family wrote threatening letters and exposed us to the world. You offended our leader. It seems that you are somebody. Keep this up and we will not release him even he dies. It's no use no matter whom you talk to, even if you talk to the State Department." They left as soon as they finished yelling at the family.
On September 1, 2006, Mr. Xin's family waited outside of Nanshan Prison until 4:30 p.m. just to see him, but they weren't given permission to meet with him. So they went back home. That night, Mr. Xin's father received a call from the prison guard. He was asked to come to the prison, but was told not to inform Mr. Xin's mother and sister.
Later it became known that Mr. Xin Minduo died on the night of September 1, 2006. At 6:00 a.m. on September 3, Mr. Xin Minduo was cremated by police guards of Jinzhou Nanshan Prison.
Those Who Are Directly Responsible for Persecuting Xin Minduo include:
From the Political Department:
Gao Wenwei (who is mainly in charge of persecuting Falun Gong), Liu Zhiguo, Zhang Xiaoping, Ma Hui
Captains of the No. 10 Division: Zhao Lixin, Zhang Fanyu
Head of the prison: Xin Yanquan
Those who persecute practitioners most inhumanly include Liu Zhiguo, Zhao Lixin and Zhang Fanyu. Gao Wenwei and Xin Yanquan gave instructions.
Now we solemnly warn those who are persecuting Falun Dafa practitioners in Nanshan Prison of Jinzhou. Good is rewarded with good and evil provokes retribution. Don't ruin your futures and your family's futures over petty gains.
We sincerely hope that good and kind people around the world show their concerns and investigate those who are responsible for murdering Xin Minduo, and hold the perpetrators of this crime accountable.
Due to the gravity of the persecution against Falun Gong by evil party members in Liaoning Province, we urge our fellow practitioners to send strong righteous thoughts and expose to the local people the evil conduct of these people.
Telephone numbers of those who are responsible:
National Security Division of Public Security Bureau of Panjin City
Xu Hao, captain: 86-427-2683315
Zhang Runqiu: 86-13842713579, 86-13019952579
Liu Jingyu: 86-427-2683326
Zhou Laixin, head of Political Security Department: 86-427-2682030 (office), Li Yonghua, Liu Guangwei, Huang Hai'ou
Tian'an Community, Wan Yinghua (forged evidence person): 86-427-2875090. Working as the chief secretary of Xinshun Community of Xinghai District
Nanshan Prison of Jinzhou: 86-416-3495782, Liang Jun, Captain: 86-13604965014
Phone number of some offices of Jinzhou Prison: (area code:0416)
Prison Political Department: 86-416-3496241
Penalty Execution Department: 86-416-3496258
Education Department: 86-416-3495282
Internal No. 1 Ward: 86-416-3496292
Ward No. 1: 86-416-3496112, Head Niu: 86-419-3496126
(Team No. 1: 86-416-3496139, Team No. 2: 86-416-3496140, Team No. 3: 86-416-3496141, Team No. 4: 86-416-3496142)
Ward No. 2: 86-416-3496158
(Team No. 1: 86-416-3496169, Team No. 2: 86-416-3496170, Team No. 3: 86-416-3496171, Team No. 4: 86-416-3496459, Team No. 5: 86-416-3496279)
Ward No. 3: 86-416-3496198, Supervisory Section: 86-416-3496220
Ward No. 4: 86-416-3496223
Ward No. 5: 86-416-3496205, Supervisory Section: 86-416-3496208
Ward No. 7: 86-416-3496158
Ward No. 8: 86-416-3496428
Ward No. 10: 86-416-3496079, Supervisory Section: 86-416-3496083
Phone numbers of some policemen working in Jinzhou Prison:
Head, Xin Yanquan: 86-416-3496001 (office), 86-416-2609999 (home), 86-13941658888 (cell)
Political commissar, Ma Zhenfeng: 86-416-3496012 (office), 86-416-3496203 (home)
Deputy head, Yang Tingfang: 86-416-3496013 (office), 86-416-3496065 (home), 86-139416444488 (cell)
Head of Prison Political Department, Gao Wenwi: 86-416-3496241 (office), 86-13804165935 (cell)
Head of Supervisory Department, Wang Jian: 86-13704066857
Chief Secretary, Wang Diao: 86-13504062756
Head of Organization Department, Gao Wenwei: 86-13804165935
Captain of Ward No. 10: Zhang Xiaoping
Head of Team No. 1 of Ward No. 10: Zhang Fanyu (supervisor), Liu Zhiguo (supervisor)