Japan: Falun Gong Practitioners Call on Singapore Government to Drop Unreasonable Charges (Photo)
(Clearwisdom.net) On September 8, Falun Gong practitioners in Japan went to the Singapore Embassy in Tokyo to urge the Singapore government to drop all unreasonable charges against innocent practitioners in Singapore. The practitioners delivered a petition letter from the Japanese Falun Dafa Association, an open letter from Niigata practitioner Yoko Kaneko, a copy of the Canadian independent investigation report into organ harvesting from Falun Gong practitioners and the Nine Commentaries on the Communist Party.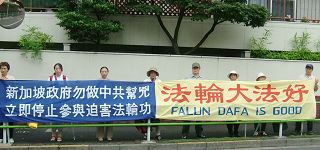 Practitioners protest in front of the Singapore Embassy in Japan

The association's petition letter stressed three main points to the Singapore government: 1) Immediately drop all unreasonable charges against Singapore practitioners; 2) Expressed protest of the unfair treatment to practitioners; and 3) Urged the Singapore government to further learn about the truth of the persecution of Falun Gong and stop assisting the Chinese Communist Party (CCP) in the persecution.
Singapore practitioners have been arrested and charged by the Singapore police for distributing truth-clarifying materials and protesting the persecution outside the Chinese Embassy. When more than 100 Falun Gong practitioners from seven countries, including thirteen from Japan, went to the Singapore High Court to attend a hearing on the mornings of August 30-31, 2006, security guards withheld all their belongings related to Falun Gong, including books and other materials, at the entrance to the Supreme Court Building. The security guards also recorded their ID information or passport numbers and contact numbers.
On behalf of the thirteen Japanese practitioners who went to Singapore, Niigata practitioner Yoko Kaneko wrote an open letter to the Singapore Ambassador to Japan. Ms. Kaneko was brutally persecuted in a Chinese labor camp for one-and-a-half years for distributing Falun Gong truth-clarifying materials in Beijing. In the letter, the thirteen practitioners clarified the truth of Falun Dafa, including the spread of the practice around the world, and the movement of quitting the CCP. They urged the Singapore government to clearly see the evil nature of the CCP and stand on the side of justice.
At around 11:00 a.m., a Singapore official came out to meet with the practitioners. After listening to a brief introduction of the cause and goal of the protest and appeal, he accepted the petition letter and appeal package and said that he would pass the information to his government.
During the peaceful protest, the practitioners held two giant banners which read, "Singapore Government: Don't Be An Accomplice of the Chinese Communist Regime -- Stop the Persecution of Falun Gong Immediately" and, "Falun Dafa is Good." They quietly protested outside the Embassy for four hours. The activity attracted the attention of many passersby.