Taiwan: Falun Gong Club Welcomes New Students (Photo)
(Clearwisdom.net) On September 5, 2006, National Ilan Commercial Vocational High School held a club talent show to welcome new students. The Falun Gong Club performed a stage play which was well-received.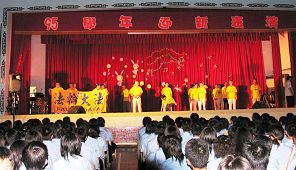 Falun Gong practitioners performed a stage play to clarify the truth to new students
Schoolteacher Mr. Cai said that the Falun Gong Club was founded in February 2003 and members of the club practice Falun Gong at lunch breaks.
The theme of the first section of the play was "Falun Dafa Spreads in China," and club members and other Ilan practitioners demonstrated the peaceful and elegant exercises of Falun Gong. The theme of the second section was "Persecution and Organ Harvesting." A practitioner elaborated on the genocidal persecution policy and findings of the Canadian independent report into the organ harvesting atrocities while several practitioners simulated an organ harvesting operation on the stage. A flash play "Please Sit on My Side" was then played to appeal to the public to stop the persecution. At the end, practitioners demonstrated the sitting mediation. When the students heard the narration "Please remember 'Truthfulness, Compassion, Forbearance', and remember that Falun Dafa Hao [is good]," many students also shouted "Falun Dafa Hao." The site was very touching. When the stage curtain closed, warm applause sounded from the audience.
The performance not only helped the students learn about the truth of the persecution but also planted the seeds of "Truthfulness, Compassion, Forbearance" in their hearts.