San Francisco Bay Area: Practitioners Attend Fremont Art Festival and Collect Signatures Condemning the Organ Harvesting (Photos)
August 09, 2006 | By Minghui reporter Wang Ying
(Clearwisdom.net) On August 5-6, 2006, Falun Gong practitioners from the Bay Area held an activity at the Fremont Art Festival to clarify the truth and collect signatures condemning the CCP harvesting organs from living Falun Gong practitioners. Citizens were shocked by the CCP brutality. They hope that more people will learn about it.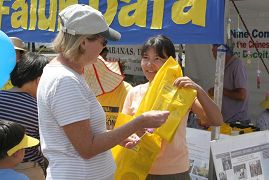 Clarifying the truth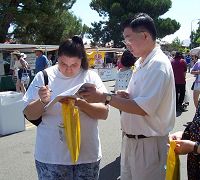 Signing name to protest the CCP brutality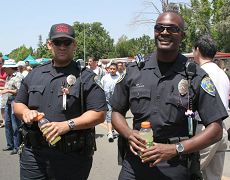 Police officers tie paper lotus flowers on their uniforms
Fremont Art Festival is the biggest street festival in California. Hundreds of thousands of people attend it every year.
Many people told practitioners that they had already heard about the organ harvesting in China. Some people who had visited practitioners' booth in previous years returned again, expressing that they cannot understand why the persecution is still going on.
Ms. Heather, who came to the festival with her husband, was shocked after she learned about the organ harvesting. She wanted to donate money to practitioners. She also told practitioners, "You should let more people know about the CCP's brutality through the public media."
Ms. Heather and her husband signed their names on the petition. Ms. Heather said to practitioners, "I respect you. I wish you good luck."
Fremont citizen Robert saw the photos, which compared the persecution of Jewish people and Falun Gong practitioners. He said that he is Jewish and he knows the experiences of Jewish people in the concentration camps.
Robert watched the video about the CCP harvesting organs from living Falun Gong practitioners. He said that he felt sad about it. He said, "The communist party is evil. They are like beasts. There is no word to describe their brutality."
Many people were interested in learning Falun Gong. They asked for more information about it.