Falun Dafa Association of Ethiopia Established (Photos)
(Clearwisdom.net) In March 2006, the Falun Dafa Association of Ethiopia was officially established after being approved by the Ethiopian government.
Last weekend, Ethiopian practitioners carried out some activities to announce and celebrate the establishment of the Falun Dafa Association of Ethiopia. The ceremony was held in the capital city, Addis Ababa.
On Sunday morning, practitioners went to a well-known sports field and did the exercises together.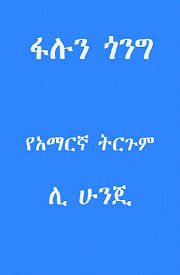 Cover of Falun Gong in Amharic language
Ethiopian practitioners do the exercises together
In the afternoon, the celebration was successfully held in a sports hall. Approximately 150 people of all ages and from different places participated in the celebration. Practitioners introduced Falun Dafa to the public and demonstrated the five sets of exercises. They also exposed the brutal persecution of Falun Gong practitioners in China.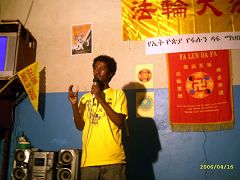 A practitioner introduces Falun Gong
Local people participating in the celebration
Ethiopia is located at the Horn of Africa and has a population of 75 million. More and more people there have started learning and practicing Falun Gong. Practitioners have translated Master Li's book Falun Gong into the Amharic language.