Japan Falun Dafa Cultivation Experience Sharing Conference Held in Tokyo (Photos)
August 31, 2006 | By a Falun Dafa practitioner in Japan
(Clearwisdom.net) The Japan Falun Dafa Cultivation Experience Sharing Conference was held on August 27, 2006 in Tokyo. Falun Gong practitioners from different places in Japan and from Taiwan and Singapore attended the Fa conference.

Japan Fa conference held in Tokyo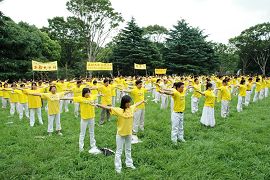 Practitioners doing the exercises together in Yoyogi Park in Tokyo
The conference was provided with simultaneous translation in both Chinese and Japanese. The conference started at 10:00 a.m. and concluded at about 7:00 p.m. Twenty-three practitioners shared their experiences in their cultivation practice, including their miraculous physical and mental changes after practicing Falun Gong, improvement in their xinxing, reciting the Fa, distributing the Nine Commentaries on the Communist Party to Chinese tourists and clarifying the truth about the persecution of Falun Gong in China to local Japanese people.
Practitioners' speeches were so touching that many of speakers shed tears while sharing their experiences. The audience was also deeply moved. The conference site was peaceful and harmonious, and occasionally there would be warm applause.
The characteristic of the Fa conference this time is that many Japanese practitioners made speeches, which shows that the number of Japanese practitioners has steadily increased. Practitioners' speeches reflected their firm belief in Falun Dafa and commitment to actively spreading Falun Dafa's wonderfulness and the persecution facts to the Japanese people so as to bring an end to the persecution in China as soon as possible. A Japanese practitioner from Nagota said that since he started practicing Falun Gong in 2003, he has been to the local Chinese consulate after off work every evening to protest and send forth righteous thoughts.
Another practitioner shared her experience of repeatedly reciting Zhuan Falun. She once suffered persecution for distributing truth clarification materials on the streets of Beijing and was illegally sentenced one and a half years of forced labor by the Chinese Communist regime.
The Fa conference was hosted by the Japan Falun Dafa Association, and was the fourth large-scale experience sharing conference held in Japan since 1999. One day prior to the Fa conference, practitioners participated in the group practice at Yoyogi Park in Tokyo in the morning and held a grand anti-persecution parade in the downtown area in the afternoon.