Kansas City Public Forum Condemns the Chinese Communist Party's Crime of Forcibly Extracting Organs from Living People (Photos)
August 27, 2006 | By a Kansas Falun Dafa practitioner
(Clearwisdom.net) "Thank you, Dr. Wang, for coming to Kansas to tell us this important information," said Missouri Senator Mr. Charles Wheeler.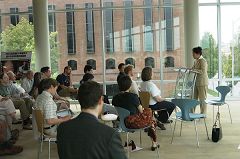 Rally at the Kansas City Public Library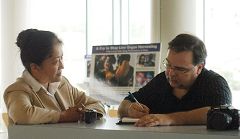 A reporter interviewing Dr. Wenyi Wang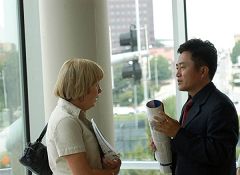 Dr. Charles Lee talking to Professor Wilter
On the afternoon of August 17 2006, Falun Gong practitioners from Kansas City held a public forum in a public library in Kansas City. Dr. Wenyi Wang gave background information regarding her call for justice at the White House in April. Charles Lee spoke about his being illegally jailed and tortured in Chinese prison for being a Falun Gong practitioner. The attendees were shocked when they heard about the Chinese Communist Party's disdain for human rights and its crime of harvesting organs from living Falun Gong practitioners. Professor of Sociology Dr. Wilter suggested the attendees see an exhibition in town entitled The Nazi Olympics—Berlin 1936. She reminded everyone that the 2008 Olympics will be in China. People must remember Hitler and the Holocaust and appeal to the Olympic Committee to revoke China's right to host the Olympics.
The Kansas City Star ran a story about the concern China's booming organ transplant business has caused in the international community. Patients from many foreign countries go to China to receive organ transplants. The same newspaper ran another article on April 16 about China's organ transplantation business. In that article, the reporter described a patient from Pakistan, who had received three liver transplants in a short period of time in the First Central Hospital of Tianjin. The story also cited the claim that the secret concentration camp in Sujiatun was a possible source of the organs.
Another local newspaper, The Sun, also sent a reporter to cover the forum. The reporter interviewed Dr. Wenyi Wang and Charles Lee and ran a thorough report.
Before the forum, a local radio station interviewed Dr. Wenyi Wang and Charles Lee to introduce Falun Gong and expose CCP's live organ harvesting atrocity.