Zhu Yi's Family Members Went to Shulan Public Security Bureau to Ask for Him, but the Police Avoided Them (Photos)
(Clearwisdom.net) Zhu Yi from Shulan City in Jilin Province was illegally detained by the National Security Division of Shulan Public Security Bureau and several police from Qili Township. He suffered enormous amounts of torture both physically and mentally while he was in Shulan Public Security Bureau and Nanshan Detention Center. His family collected signatures from several hundred local people and took them to the public security bureau. Police used all kinds of excuses to avoid talking to them and for several days, they tried to avoid even seeing them.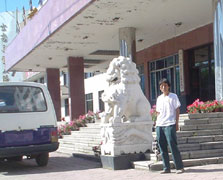 Zhu Yi's wife wears a white T-shirt with the word "injustice" written on it, standing in front of the Public Security Bureau to tell passersby about her husband's plight.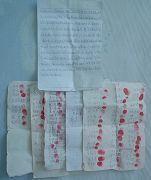 Local residents' signatures
Zhu's family members had no other way to solve the problem, so they wore T-shirts exposing the torture of Zhu Yi by the police of the National Security division in Shulan Public Security Bureau. They stood in front of the Shulan Publilc Security Bureau to protest.
At about 3 a.m. on July 18, 2006, four cars filled with police officers parked on the main street of Zhujiatun in Zhuqi Village, Qili Township. More than 20 people came out from the cars and went toward Zhu's house. They knocked loudly and woke up the people inside, who did not open the door. The police climbed over the fence and got into the courtyard, and tried to pull the door open, but failed. They then started to force open the window, but it didn't work. They finally broke the windows, climbed in and arrested Dafa practitioner Zhu Yi. Zhu's wife tried to stop them, but one of the policemen pointed a gun at her and said: "Be quiet or I'll shoot." Zhu yelled "Falun Dafa is good," but the police covered his mouth to stop him. They then ransacked Zhu's house.
Dafa practitioner Zhu Yi was sent to a brainwashing center at Xiangshui Reservoir, Jishu Town, Shulan City, where he suffered inhuman torture. Dafa practitioners Feng Chen and Cao Guiru were also sent for brainwashing that same day.
Related phone numbers:
Brainwashing Center at Xiangshui Reservoir "guest house" (the new name is Guxiang Welfare Home) : 86-432-8821266, 86-432-8812266
The director of the 610 office, Lu Yajiang: 86-432-8232345, 86-432-8218850, 86-13804440555
Deputy director of the 610 office, Fan Zhongxiao (extremely vicious)
The public security bureau of Shulan City:
The director of bureau, Li Shaobo: 86-432-8224808(Office), 86-432-8231063(Home), 86-13804441999(Cell)
The Politically Commissar, Li Wenxin: 86-432-8224739(Office), 86-432-8228100(Home), 86-13904445186(Cell)
The deputy director of the bureau, Zhang Guoxin: 86-432-8230606(Office), 86-432-8219988(Home), 86-13904445400(Cell)
The Country Security division: 86-432-8225509
The criminal police division:
The office of the division: 86-432-8237561
Instructor office: 86-432-8232345